Arsenal boss Wenger anger at Manchester City boss Mancini
Last updated on .From the section Football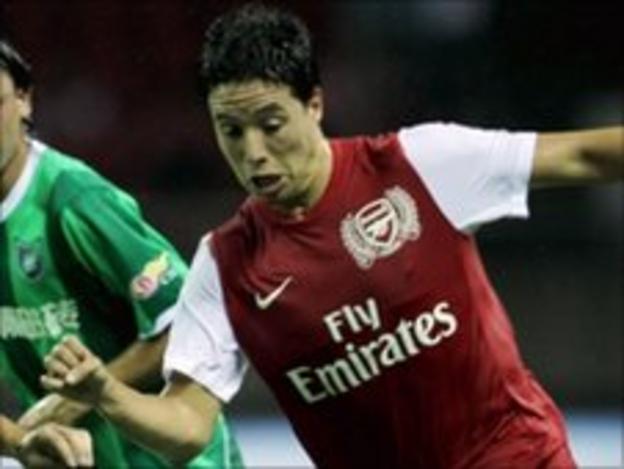 Arsenal manager Arsene Wenger has criticised Roberto Mancini after the Manchester City boss said he was hopeful of signing midfielder Samir Nasri by the end of the month.
"We do not make any comments on players who are under contract in other clubs," said Wenger.
"These comments are not allowed and Roberto Mancini should be informed."
Mancini said on Saturday he was keen to sign both Nasri and Atletico Madrid's Argentine striker Sergio Aguero.
Asked if an offer had been made for Nasri, the Italian told Sky Sports News: "I don't know in this moment, I don't know the situation but for Nasri it is difficult.
"I hope that we can buy because we need other players, and I hope that this player can arrive before the end of the month.
"Samir is under contract with Arsenal. Also for Samir it depends on many things."
Despite the speculation over his future, Nasri is on the Gunners' pre-season tour of Asia and started Saturday's friendly against Hangzhou, which ended in a 1-1 draw.
It is thought that Wenger is prepared to lose the France international on a free transfer next summer rather than sell him now.
A bid of almost £20m from Manchester United for the former Marseilles man was rejected in June.
But Wenger, 61, is angry with Mancini's public declaration of interest in his player.
"I don't spend my time on what other people say. We are focused on playing our football," said the Frenchman.
"They are against the basic rules of football.
"What we want is respect. It is time football in England came back to these basic rules."
City's move for Aguero could depend on his international team-mate Carlos Tevez getting his wish and moving away from Manchester.
Brazilian side Corinthians failed in a £35m bid for the City captain and are understood to have come back with an offer of £39m, although the FA Cup holders are believed to be holding out for a fee of around £50m.
Aguero has already expressed an interest in a move to England but has also been linked with a move to Atletico's city rivals Real Madrid, as well as Juventus.
Mancini added: "Aguero is a player that can play for Manchester City because he is young and he is a good player like Carlos. He can score a lot of goals and can play with Mario [Balotelli], with Edin [Dzeko]. It could be [that he joins]."