Tampa or Torquay?
By Simon Austin and Shamoon Hafez
BBC Sport
Last updated on .From the section Football
(Arranged in order of most miles travelled)
Playing in searing temperatures, long-haul flights to far-flung destinations and visits to shopping precincts just to keep the sponsors happy - pre-season tours for Premier League clubs are not what they used to be.
Years ago, players were put through their paces on army assault courses, made to do endless cross-country runs, and then turn out against local opposition in very gentle warm-up games.
But as our graphic (above) shows, you are now much more likely to see England's elite clubs in action in Malaysia, Hong Kong or New York.
All but two of the top flight's 20 clubs decided to go abroad to warm up for the forthcoming season.
Only Swansea and Wolves opted to remain in the United Kingdom during pre-season, although there were others that decided not to embark on full-blown trips abroad.
Of course, tours ahead of the 20th Premier League campaign are about more than getting match fit. They are about spreading the commercial value of the global game, with players treated as "brand ambassadors".
According to sports finance expert Dan Jones it is "enlightened self interest" for Premier League clubs to go globe-trotting.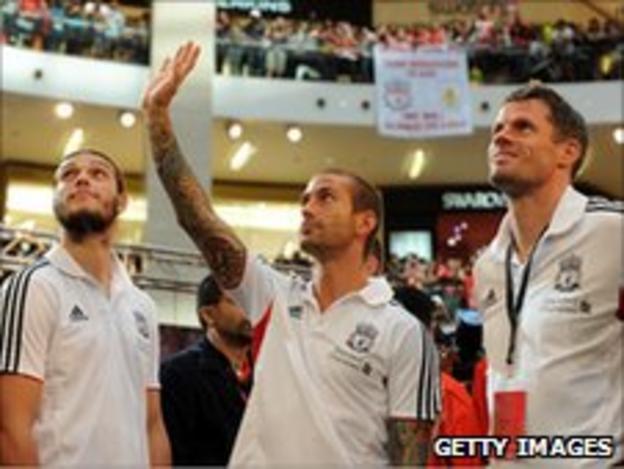 "The driving force is commercial, although the money made from these tours is not actually that great," Jones, a partner in Deloitte's Sports Business Group, told BBC Sport.
A select few teams might get large fees from promoters - Manchester United, for example, received more than £1m per match to take part in the World Football Challenge in the United States - but, as Jones indicated, much of the financial benefit is indirect.
"We've got big sponsors and part of the return on their investment is that we go and support them in their key markets," said Liverpool chief executive Ian Ayre.
"Our fans buy merchandise and watch us on TV every week throughout the year, so it's about giving back to them. You can't have millions of fans all over the world and not give them the chance to see the team up-close.
"If you look at the money we get from our collective media deal with broadcasters around the world, you maintain the value of that by taking the team out to that part of the world."
And it is not just about playing a few matches and signing a few autographs - it is about much, much more than that.
"There was a whole programme of events during our tour," said Ayre. "We had scouting missions, store visits for kit supplier Adidas, bank visits for shirt sponsor Standard Chartered, competitions, free training sessions for fans and a variety of community projects."
Chelsea, Aston Villa and Blackburn are competing in the Asia Trophy in Hong Kong alongside local side Kitchee.
The four-team event, which is held every two years, is hugely popular in the region. More than two-thirds of the 80,000 tickets were snapped up within five days.
The Premier League's chief spokesman, Dan Johnson, said Asia remains a key market for clubs.
"Asia has always been one of the biggest markets for English football, there's a kind of expat thing going on with Hong Kong and Singapore, it's grown from there," said Johnson.
Even Arsenal have been convinced of the need to reach out to their fans around the globe.
Arsene Wenger used to hold his pre-season training camps in Austria, where the team might have played a couple of friendlies. This year, following a change of strategy, Arsenal joined Liverpool in Malaysia and China.
The level of interest in the Far East was huge. A crowd of more than 65,000 watched Arsenal's game against a Malaysia XI in Kuala Lumpur.
But there were downsides, like the lengthy travel times and the fact that the match was played in 37C heat.
Arsenal's England winger Theo Walcott admitted it was "a demanding schedule" but team-mate Johan Djourou felt the change of scenery had a positive effect on the players.
"It was massively different to Austria," the Swiss international told the Arsenal website. "For us, it was great to see something different.
"Austria is more settled and we know that we are going to the hotel, training and that is it. We did more in Asia with the team so it was great."
The two main destinations for Premier League sides this summer have been the Far East and United States.
Five clubs - Chelsea, Liverpool, Arsenal, Aston Villa and Blackburn - travelled out to the Far East but the most popular choice was the USA, with Everton, Manchester United, Manchester City, West Brom, Newcastle and Bolton all heading there.
"Lots of clubs are going to the States because it's a reasonably accessible market in terms of distance and not being too much of a culture shock for the players," said Deloitte's Jones. "And it's a lot easier to sell a £50 ticket in New York than it is in Thailand or China."
Tottenham travelled to South Africa, where the club funds a number of community projects. Some of the players even met prime minister David Cameron during his state visit to the country.
The only sides to remain in the United Kingdom during pre-season were Swansea, who make their Premier League debut next month, and Wolves, who escaped relegation on the last day of the season.
Stoke also opted against a full-blown tour. Potters chairman Tony Scholes said he had weighed up the "potential commercial opportunities" against "wanting to get the perfect preparation" for the season ahead and ultimately decided a tour "just was not worth it".
Instead, the team went to Austria for a training camp and a game against a local side, while arranging friendlies in the UK against Newport, Newcastle Town, Brentford, Aldershot and Sheffield Wednesday.
Such a domestic schedule was the norm 15 years ago. It was certainly very different in the 1960s and 1970s, when Spurs manager Harry Redknapp was a player at West Ham United.
"First day back for pre-season, we'd run up the Epping Road, cars and lorries flying by," he said.
"Bobby Moore was always at the back doing it in his own time and Brian Dear would be hitching a lift on a milk float.
"Sometimes you'd bump into the Spurs players doing the same thing. The first the fans saw of the players was five minutes before kick off."