Gerard Houllier will only manage again if doctors agree
Last updated on .From the section Football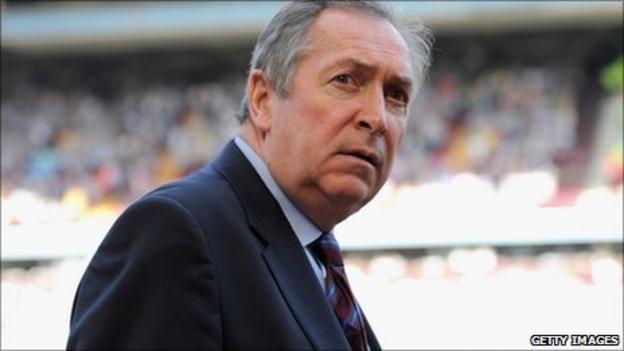 Gerard Houllier says he will only consider a return to full-time management if his doctors agree that it is safe for him to do so.
Houllier, who left Aston Villa in June after suffering health problems, said he retained a sense of "unfinished business" at Villa Park.
But for now the 63-year-old Frenchman wants to "make sure I get fit again".
He told 5 live's Sportsweek programme that he would "definitely still be linked with football - it is my life."
Houllier took over at Villa last September but missed the last five games of the season after being taken ill and spending time in hospital.
His assistant, Gary McAllister, took charge in his absence before former Birmingham boss Alex McLeish was appointed as his permanent successor.
Houllier said he was determined to make a comeback because "it is my oxygen and if I have to be involved in another way (other than as a full-time manager) then I will.
"But I will follow the doctors' advice and if the advice is not to get back into management, I won't."
Houllier, who also missed part of the 2001-02 season due to heart problems when he was Liverpool manager, said there had been talks about him returning to Villa for the 2011-12 campaign.
"There was an option of leaving the team to Gary McAllister and I would come back in September," he said, "but the chairman and owner wanted to go another route and I have to respect that. We left on good terms, no acrimony, no bitterness."
Houllier also said Villa should be aiming for sixth or seventh place this season under new manager McLeish, even without England winger Stewart Downing, who left to join Liverpool.
"I would have done everything to keep Downing but when a player wants to leave you can't do much about it in modern days," he said. "All you can do is try to find a replacement."
The Frenchman's time at Villa Park was punctuated by unrest among fans as their team flirted with the relegation zone. They eventually finished the season in ninth place but made a tame exit from the FA Cup, registering only two shots on target in a 0-3 defeat at Manchester City.
Villa reached the quarter-finals of the Carling Cup only to be knocked out by local rivals and eventual winners Birmingham City.
He took over as Liverpool boss in 1998 and in 2000-01 won the Uefa Cup, FA Cup and League Cup treble.
Then, in October 2001, during a home match against Leeds, Houllier suffered chest pains and was rushed to hospital for open heart surgery.
He returned five months later and remained at Anfield until 2004 until he was sacked and replaced by Rafa Benitez.
After leaving Liverpool, he led Lyon to two French titles in two seasons before joining the FFF in 2007 where he worked as technical director.