Women's World Cup: Faye White has no plans to retire
By Jessica Creighton
BBC Sport
Last updated on .From the section Football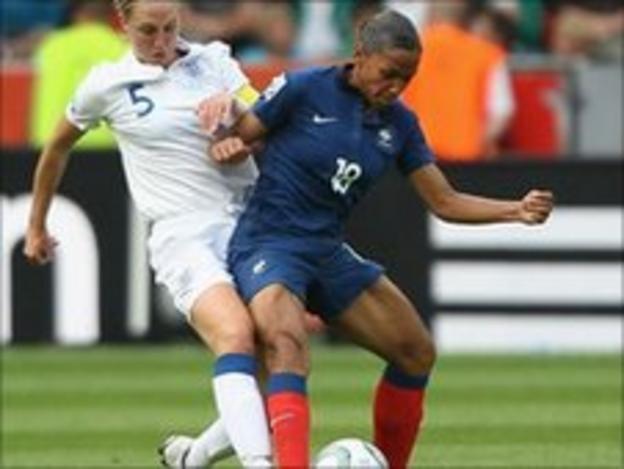 England women's captain Faye White says she has no plans to retire from international football and would like to represent Great Britain at the Olympics.
White was one of the England players to miss a penalty in the World Cup quarter-final shoot-out loss to France.
But the 33-year-old defender told BBC Sport: "I love playing for my country.
"The Olympics would be unbelievable. I have the passion and desire but it's not down to me, it's the manager."
England were minutes from a semi-final spot when France equalised.
Penalties loomed after a goalless extra-time, with many of the England players carrying injuries picked up in the game.
After World Cup debutant Claire Rafferty put her penalty wide, White's effort cannoned off the crossbar to send England home.
In her post-match interview, England manager Hope Powell praised the "galliant effort" of her team.
But the 44-year-old was later reported as saying she was disappointed with her players' "cowardly" approach in volunteering to take spot-kicks.
"That certainly wasn't the impression we got initially after the game," White said, when asked about Powell's comments.
"Hope felt it was up to the players to decide who felt ready to take one. That's why I stepped up, I was prepared to take one.
"Do I wish I'd scored? Of course. I've played it over and over in my head. It's how cruel football can be. We were two minutes away from going through."
Despite the miss, Arsenal Ladies skipper White is adamant she would make the same decision again.
"I wouldn't have changed my position to put my hand up and take one. I felt responsible as a captain and a senior player," White said.
"If no one was going to take one, then I would and take the consequences of going through the upset and feelings of missing. Sometimes it is a lottery.
"We can always look back and think about the lessons learned. Maybe we will need to do that."
In an illustrious career, White has captained her country in four major tournaments and won 25 major trophies with leading women's team Arsenal Ladies.
For a player that began playing football as a young girl with her brother's friends, the defender has seen the women's game revolutionised in the United Kingdom.
Under Powell's guidance, women's football in England has developed a youth structure which has seen the birth of centres of excellence and England youth teams.
"I think Hope Powell has done a magnificent amount for the women's game," said White, who returns to action on 24 July when Arsenal face Liverpool in the Women's Super League..
"She's done a magnificent job to put the whole structure in to place and get us to where we are. That has to be taken note of."