Women's World Cup: Japan celebrate win on penalties
Last updated on .From the section Football
Japan's women will return home as national heroes after their astonishing World Cup success on Sunday.
"We're so happy about the title, now we're number one," said Japan captain Homare Sawa, who won the Golden Boot for top scorer in the tournament.
"We know this is a great victory, we are bringing the gold medal home."
Japan's previous best finish had been reaching the quarter-finals in 1995, and had never beaten the United States in 25 meetings prior to Sunday's enthralling final.
Their team is nicknamed 'Nadeshiko', after the pink plant that is used to personify the attributes of an ideal Japanese woman - neatness, resilience and loyalty.
Although Japan went into the tournament ranked as the fourth best team in the world, few experts predicted they would be able to overcome the more powerful and experienced nations like hosts and defending champions Germany, and the United States.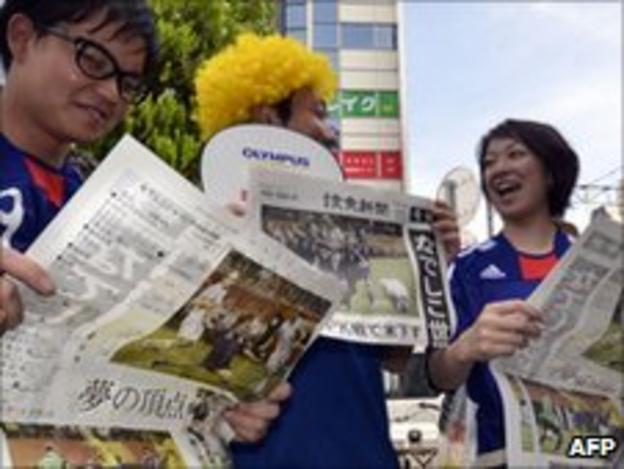 "There is no happier president than a World Cup winner," added Japan Football Association president Junji Ogura.
"The players demonstrated the wonders of Japanese women."
Coach Norio Sasaki had motivated his team by showing them footage of the areas devastated by March's earthquake and subsequent tsunami which reduced some of his players to tears, but it inspired them to produce extraordinary results.
Japan beat Germany in the quarter-finals, Sweden in the semis, and then twice came from behind to force penalties, winning 3-1 on spot kicks, after goalkeeper Ayumi Kaihori saved two United States efforts.
The US team had the support of President Obama and his family, who watched the match from the White House, but ultimately they came up short.
Their goalkeeper Hope Solo offered her congratulations to Japan, saying: "I truly believe that something bigger was pulling for this team.
"As much as I've always wanted this, if there were any other team I could give this to it would have to be Japan. I'm happy for them and they do deserve it."
Solo's team-mate Abby Wambach added: "Japan just kept coming and they never gave up, and in the end they're the world champs."
The next Women's World Cup finals will be held in Canada in 2015.