No agreement on league reconstruction after SPL summit
Last updated on .From the section Football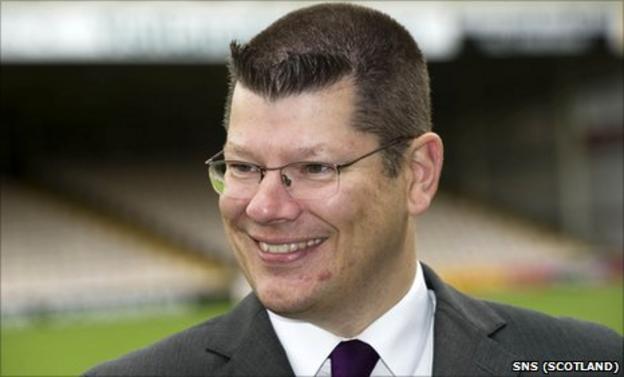 Agreement on league reconstruction appears no closer following the Scottish Premier League's annual general meeting at Hampden.
Representatives of all 12 clubs met on Monday to discuss changes to the league including play offs and promotion.
However, a number of chairmen believe plans for a smaller 10-team top flight will not go ahead.
An SPL steering group first introduced the idea of a top 10 with a new second tier of 10 last year.
That was later revised to 10 in the top flight and 12 in the division below.
The lack of progress would appear to be a blow to chief executive Neil Doncaster who has previously said that rejecting change would be detrimental to the sport in this country.
"I believe if we stay as we are then we will be managing continuing decline," he told BBC Radio Scotland's Sportsound in January.
"If the vote goes against two SPL leagues of 10 then we have the status-quo, but that's something that everyone accepts should not be the case."
However the Kilmarnock chairman Michael Johnston, who has opposed the smaller top flight in the past, doesn't think a 10-team league will go ahead.
"I certainly haven't changed my position and I know that there are a lot of other people around the table who haven't changed their position either," he said.
"I'm not worried about anything that happened today," he added.
The Dunfermline chairman John Yorkston said he doesn't believe reconstruction will be implemented any time soon.
"It was touched upon," he said following his first SPL meeting since the club's promotion from the First Division.
"We're still going to be progressiong discussions, but it is too late for anything for this season now."
Proposals for an SPL TV channel and a possible merger with the SFL were also discussed at the Hampden meeting, and will be considered again in future.
"Everybody understands the need for change," Leeann Dempster, the chief executive of Motherwell said.
"I think that will happen but how we get there is no entirely clear yet."
The SPL's five-man board of directors was also finalised with Derek Weir of Motherwell elected for the first time.
The board now consists of SPL chairman Ralph Topping, chief executive Neil Donacaster, Eric Reilly of Celtic, Steven Brown of St Johnstone and the Motherwell vice-chairman.
Rod Petrie of Hibs and Stewart Gilmour of St Mirren stepped down from the Board after eight and two years' service respectively, while Martin Bain's resignation from Rangers accounted for the other departure from the board.