Ferrie Bodde fitness boost for Swansea City
Last updated on .From the section Football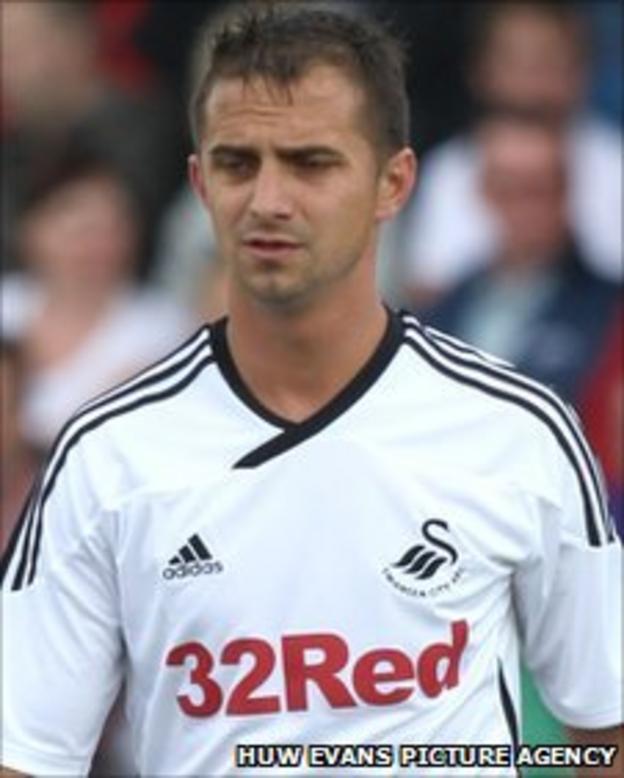 Ferrie Bodde has reassured Swansea City that his early departure from their pre-season win at Port Talbot Town was a precaution against further injuries.
The 29-year-old midfielder enjoyed a 14-minute cameo in his first game for almost 18 months since recovering from surgery on his troublesome knee.
Bodde set up Craig Beattie's goal in their 3-1 victory on Saturday.
"I'm fine but I said to the bench I had tired legs and didn't want to risk further injuries," Bodde told the BBC.
The Dutchman suffered his first cruciate ligament injury in November 2008 during a 3-2 home defeat to Birmingham City.
Bodde's return to the starting line-up after 10 months on the sidelines lasted just eight minutes in September 2009 before a 32-minute appearance against Peterborough in February 2010.
The former Den Haag playmaker, who signed a one-year contract extension with Swansea in June, made another comeback on Saturday showing some flashes of brilliance at Welsh Premier Port Talbot on Saturday.
But Bodde's fleeting appearance was pre-planned at the end of Swansea's first week back in pre-season following their Premier League promotion.
"I decided beforehand to only play 30 minutes," he said.
"It had been one week of hard training and double sessions but after 15 plus minutes my legs and knees were tired. But I was happy to get some minutes on the pitch.
"I was a little bit angry as I was in the dressing room afterwards and I got a text saying 'what's up with your knee as it is on the website'.
"But because it has happened a few times, people are going to think the worst. However, I am feeling good.
"To get minutes playing is different than training and I'm really happy and now I can't wait for my debut in the Premier League."
Swansea manager Brendan Rodgers praised Bodde's physical condition, admitting: "His weight is fantastic and looks fit but he is not football fit.
"Ferrie has worked tirelessly to be fit and was fit towards the end of last season but we wanted to nurture him.
"But we felt psychologically it would be great for him to get out onto the field for 15 to 20 minutes to remind him of the geography of the pitch as it has been so long.
"And in that short period of time, Ferrie made a couple of exquisite passes."
Bodde hopes to be match fit for Swansea's Premier League opener at Manchester City on 15 August and battle with Joe Allen, Leon Britton, Mark Gower and Kemy Agustien for a central midfield berth.