Man United boss Alex Ferguson wary of Liverpool threat
Last updated on .From the section Football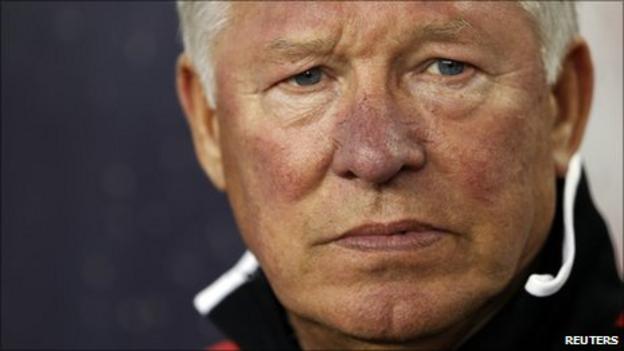 Manchester United boss Sir Alex Ferguson says he expects Liverpool to challenge for honours next season.
The Anfield club have not won the Premier League title for 21 years and finished sixth in the league last term.
But Ferguson thinks Liverpool, under boss Kenny Dalglish, will be a major threat next term.
"Liverpool went off the radar for a bit. They are now back on it," Ferguson said. "Long-term you know they are going to be there."
The Red Devils boss now believes there will be a five-way battle for the Premier League title next season, with Chelsea, Arsenal and Manchester City also in contention.
"One of those four will always be a thorn in our flesh. They are our immediate challengers. History doesn't change," added the 69-year-old.
"No matter where it comes from, somewhere along the line we are going to be faced with a big challenge from one of those four great clubs."
Ferguson also added that he thinks Andre Villas-Boas, 33, faces an 'enormous challenge' after being appointed Chelsea manager last month.
"It is a big step for Chelsea and an enormous challenge," said Ferguson. "But he knows the club and has been there before, that's an advantage.
"We expect Chelsea to be challenging for honours again."
The Portuguese was a surprise appointment at Stamford Bridge in June, the former FC Porto coach taking over from Carlo Ancelotti, who was sacked at the end of last season.
Villas-Boas, who led Porto to a Portuguese Liga, Portuguese Cup and Europa League treble last season - his first campaign in charge at the Estadio do Dragao - was in Jose Mourinho's backroom staff when the Real Madrid boss was in charge at Chelsea from 2004-07.
Ferguson added: "He has a very experienced bunch of players there and for a young manager having to go to a club of that size, experienced players are a help to him.
"It is a strong possibility that he will have enough staff to overcome that type of move."
Ferguson's first job in management was at Scottish side East Stirling in the 1970s at a similar age to Villas-Boas, the Glaswegian collecting only £40-per-week having been employed on a part-time basis.
But he said their careers were very different, adding: "I was 32 when I started but I was managing a wee Second Division team in Scotland.
"All I had was a physio. I has no assistant manager or anything like that. He also has the advantage, irrespective of his age, of having the staff he wants to have."
Chelsea meet United for the first time next season when they play in the Premier League at Old Trafford on Sunday 18 September. United travel to Liverpool on Saturday 15 October.