Barcelona say they will 'fight' to sign Arsenal's Cesc Fabregas
Last updated on .From the section Football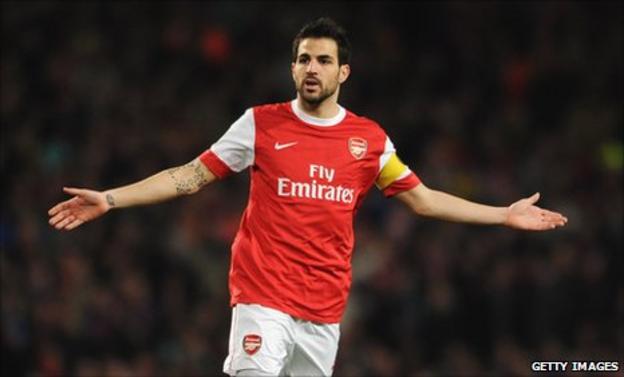 Barcelona coach Pep Guardiola says the club will "fight to the end" to sign Arsenal midfielder Cesc Fabregas.
The European champions had a bid of about £27m rejected by the Gunners in June this year.
"Barcelona have made an offer, Arsenal another and we have until 31 August to try to reach an agreement," said Barca coach Guardiola.
"We will fight to the end to try to get Cesc because we believe he will improve the team and the squad."
Arsenal are believed to value Fabregas, 24, at around £40m but Barcelona president Sandro Rosell has already indicated his club would only pay as much as £35m for the player, who has four years left on his contract with the Premier League side.
"There is a sum of money in the strong box set aside for this signing but if it doesn't work out it will be kept in the box for something else," said Guardiola.
Fabregas, a product of the Barcelona youth academy before joining Arsenal as a 16-year-old in 2003, has been linked with a return to the Nou Camp for the last two seasons.
But Barcelona's sporting director Andoni Zubizarreta said he hoped a deal for the Spain international could be done this time around.
"The position towards Arsenal is one of maximum respect because the club own the player," said Zubizarreta. "Also towards the player (himself).
"From there, our position is to try and see eye to eye [on a deal], creating proposals that may be of interest, while always maintaining the maximum respect.
"We don't have a style of doing things by force."
Guardiola also spoke out against the possibility of Fabregas forcing his exit from the Gunners, saying: "I think that Cesc has to do what Arsenal ask.
"For me, I wouldn' like one of my players to say 'now I'm not training because I want to go'."
Zubizarreta indicated that Barcelona's priority before the end of the transfer window was signing a striker, with Udinese's Chilean striker Alexis Sanchez set to move to the Nou Camp.
The former Spain goalkeeper said: "As we understand it, we are in the final stages of the negotiations to sign Sanchez and an agreement will happen very soon.
"But I would have said the same thing this time last week. As in a good film, it seems sometimes the end takes a little longer."