Gateshead ambition impresses Eddie Odhiambo
Last updated on .From the section Football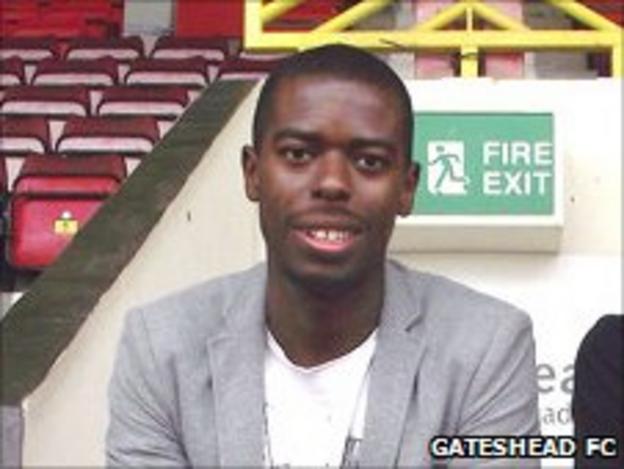 New Gateshead defender Eddie Odhiambo says he has been impressed by manager Ian Bogie's ambition.
Odhiambo is one of four summer signings at Gateshead, alongside Yemi Odubade, Micky Cummins and Sam Rents.
He told BBC Newcastle why he made the move to Tyneside: "The manager spelled out everything to me that the club's aiming to achieve.
"Winning games is the most important thing and I've done that for the last few years and I want to keep doing it."
The 25-year-old began his career at Southampton, before spending two years at Oxford United.
He then went on to sign for Stevenage and was part of the side that won the Conference in 2009/10.
Odhiambo made the switch to Newport County the following season and then penned a one-year deal at Gateshead following his release from the Welsh club.
Although an attacking right back, Odhiambo says this season he will be concentrating on his defensive play.
"First and foremost I've got to defend, that's what the manager wants me to do," he added.
"Getting forward is a bonus and the way we play helps me out to show my flexibility and ability on the ball in forward areas.
"The defending is most important to me - for me as a right back it's got to be my main aim."