Zambian players spared jail in Finland fixing scandal
Last updated on .From the section Football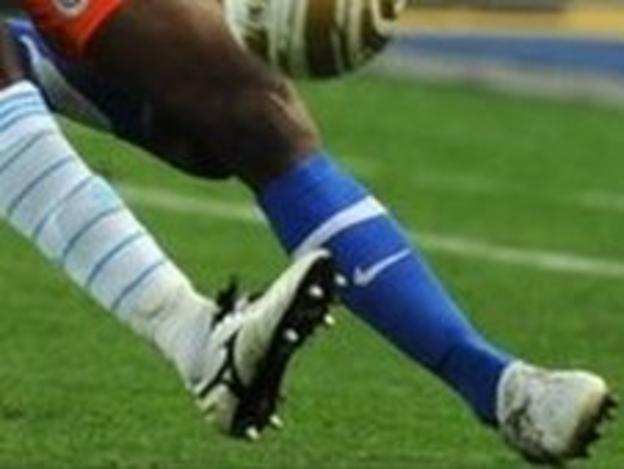 Seven Zambian players involved in a match-fixing scandal in Finland have been handed suspended jail terms.
The court handed suspended sentences ranging from six months to 20 months to the seven Zambian players connected with the scandal on Tuesday.
The Singaporean man at the heart of the investigation, Wilson Raj Perumal, was sentenced to two years in prison.
The court ruled that Perumal netted $210,000 for fixing results in Finnish league matches since 2008.
The Zambian players Godfrey Chibanga, Chileshe Chibwe, Francis Kombe, Stephen Kunda, Christopher Musonda, Chanda Mwaba and Nchimunya Mweetwa, who play for Rovaniemi Palloseura (RoPs), were sentenced along with their two Georgian team-mates.
The players are now free to leave Finland but their future in the game is uncertain as they could face possible ramifications from Fifa.
They were convicted of accepting bribes of $15,000 to $57,000 each to affect the outcome of matches.
Perumal was convicted of bribery, forgery and illegal border crossing.
The Singaporean is also suspected by world governing body Fifa of fixing international games involving African and Asian national teams.
Perumal was arrested in February after having entered Finland with a fake passport.
He was accused of being a central figure in a match-fixing scam that focused on the local team in the northern town of Rovaniemi.
The court said 24 Rovaniemi matches were fixed, and that Perumal's involvement was proven in seven of them.
It said he also fixed two other Finnish league matches, involving the Oulu and Mariehamn teams.
Prosecutors have said three other match-fixers were involved in the Rovaniemi case but they have not been able to establish their identities.
The Finnish league has been overshadowed by match-fixing scandals since it kicked off in May.