Right time to end N Ireland career - Stephen Craigan
Last updated on .From the section Football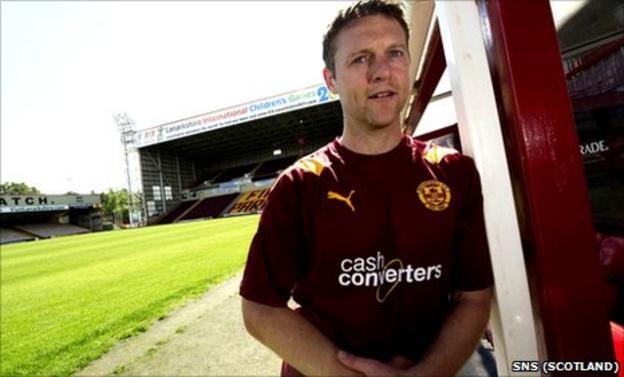 The Motherwell captain Stephen Craigan has announced his decision to bring his international career with Northern Ireland to an end. He told BBC Sport's Annie McGuire why...
"To be honest I'm giving up international football with a heavy heart.
It's harder to recover between games and I thought for the benefit of Motherwell and my club career I had to give myself more of a chance.
This definitely isn't about my career winding down - in fact it is the opposite.
The reason for coming away is to try and extend my playing career as much as I can.
I've been vigilant with regards to looking after myself. I've spent loads of money over the years on diets and supplements and sprint coaches and sport psychologists.
I've gone to all extremes to try and extend my career and this is just another way of trying to do it. It hasn't cost me financially this time, but it has cost me in terms of playing for my country.
Until you stand there and hear your national anthem and see your family you can't explain what it means.
I've achieved far more than I ever thought I would. When you do get a little bit down or things get on top of you it's nice to go and look at some jerseys that you've collected over the years.
I'm lucky enough to have them from Andreas Pirlo, Dmitar Berbatov, Michael Owen, Cristiano Ronaldo, Zlatan Ibrahimovic.
For me to be on the same pitch as these guys, I've punched above my weight but I've enjoyed that challenge.
People have been asking me when I've been going to retire since I turned 30.
I think we have a habit of ruling people out in football. David Weir has broken that barrier by playing on past the age of 40.
We need more players who play beyond their mid thirties to lift that stigma that comes once you reach a certain age.
The hardest thing I've had to do was to tell my mum and dad that I was giving up. I texted my brothers. I didnt' have the heart to phone them because I know how much they enjoyed going along and supporting me and the team.
That was the hard part for me. But everything was a high for me playing for Northern Ireland. I've been lucky, but I've worked hard for it.
But I haven't just dedicated myself to football for my country, I've dedicated myself to football in general, and for the last 7 or 8 years that's been for Motherwell.
We've got a tough season ahead of us and have an obligation as players to respect the game and respect the clubs that we play for so we'll be doing our best to have a good season. Anything you get in the SPL you have to work hard for and we're prepared to do that."