Carney eyes women's title after World Cup disappointment
By Tony Leighton
Women's football correspondent
Last updated on .From the section Football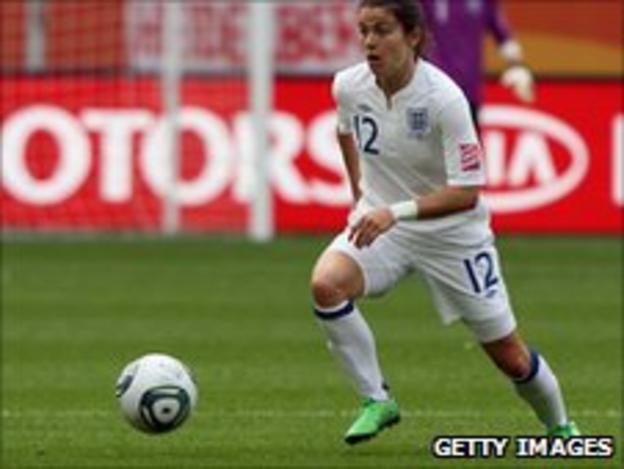 Karen Carney heads into the second half of the Women's Super League season still getting over the disappointment of England's World Cup last-eight exit.
The 23-year-old Birmingham winger was "absolutely dejected" after the penalty shoot-out defeat by France on 9 July.
But she said she is now "excited" about resuming her club's title challenge, with Blues four points clear ahead of Saturday's game at home to Doncaster.
"Winning the league is the dream, but it's also a long way away," she stated.
Carney has revealed that she tried to "let go of her England disappointment" by returning to host nation Germany to watch Japan beat the United States on penalties in last Sunday's thrilling final.
"We didn't go through and that's the reality," she commented. "I got shivers when I saw Japan lift the trophy on Sunday and that's going to be a motivation for getting to the finals in Canada in four years' time.
"It was a fantastic final to finish off a fantastic tournament and I'm so glad I went back over there."
Carney came home from the finals the day after England's elimination.
"I felt absolutely dejected", she said. "It was horrible walking around the house, and I think that if I'd gone straight back into training with Birmingham it might have been hard for me to get my focus back on the WSL.
"I had a bit of a knee problem anyway, so I decided to take a little break.
"I had a really good few days, not just watching football but meeting up with friends from my time in America, relaxing and letting go of my England disappointment."
Carney was one of England's successful penalty-takers in the quarter-final shoot-out defeat by France, having earlier played a key role in the 2-0 group win against Japan - the only game in which the eventual winners were beaten.
The former Chicago Red Stars player refused to be drawn on the issue over the initial lack of penalty shoot-out volunteers for England coach Hope Powell.
"We didn't decide on penalty takers before the game. And, after playing 120 minutes, people were on their last legs," she said.
"I can't comment on why people did or didn't want to take penalties, but at the end of the day five of us stepped up and it doesn't matter who did or didn't take a penalty."
England start their bid to qualify for Euro 2013 in Sweden with a visit to Serbia on September 17, three weeks after the end of the WSL's inaugural season.
And Carney is hoping that she will step back into international action with a WSL winner's medal to her name.
Birmingham have already beaten their closest challengers Arsenal, who have a game in hand, and have every reason to feel confident for the games ahead.
"I was mentally drained when I first came back from Germany, but I feel so much better now and I'm really excited about going back into the Super League," Carney reflected.
"Winning the league is the dream and it's a lovely thought, but it's also a long way away and we have to focus on our short term goals.
"So we'll be out to put on a good show against Donny on Saturday and hopefully pick up three points, but everybody wants to beat the top team and we know that every game from now on is going to be tough."
FA Women's Super League fixtures this month:
Friday 22 July
Bristol Academy v Lincoln
Saturday 23 July
Birmingham City v Doncaster Belles
Sunday 24 July
Arsenal v Liverpool
Everton v Chelsea
Wednesday 27 July
Bristol v Birmingham
Everton v Liverpool
Thursday 28 July
Arsenal v Chelsea
Sunday 31 July
Chelsea v Doncaster
Everton v Arsenal
Lincoln v Birmingham
Liverpool v Bristol