Terry Butcher brands early start to SPL season farcical
Last updated on .From the section Football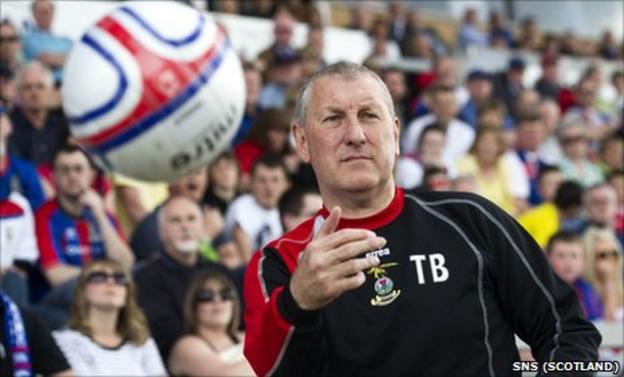 Inverness manager Terry Butcher has branded the early start to the Scottish Premier League campaign as "farcical".
Ahead of this weekend's fixtures, the former England captain says most clubs are not ready.
"We're off and running again on Saturday and we are three weeks ahead of most other leagues and teams and countries," he said.
"You look at the squads that have been assembled by clubs in the SPL and they are nowhere near complete."
He added: "We weren't consulted as managers.
"Maybe the directors and chairmen were consulted but we certainly weren't and everybody is in the same boat that I have spoken to, that we are starting too early."
The Highland club get their season under way against Motherwell on Saturday, but Butcher believes supporters aren't pleased with the re-start.
"I think it's a little bit farcical and it does short-change the public and our fans because our fans want to see our squad complete.
"But they are very much in the dark because they don't know who's going to come in."
Butcher is determined to improve on last season's seventh-place finish.
"We'll have a go this year. We are looking to be better than we were last year, we're looking to improve and build on the success that we've had for the last two years."