Gateshead boss Ian Bogie to offer deals to trialists
Last updated on .From the section Football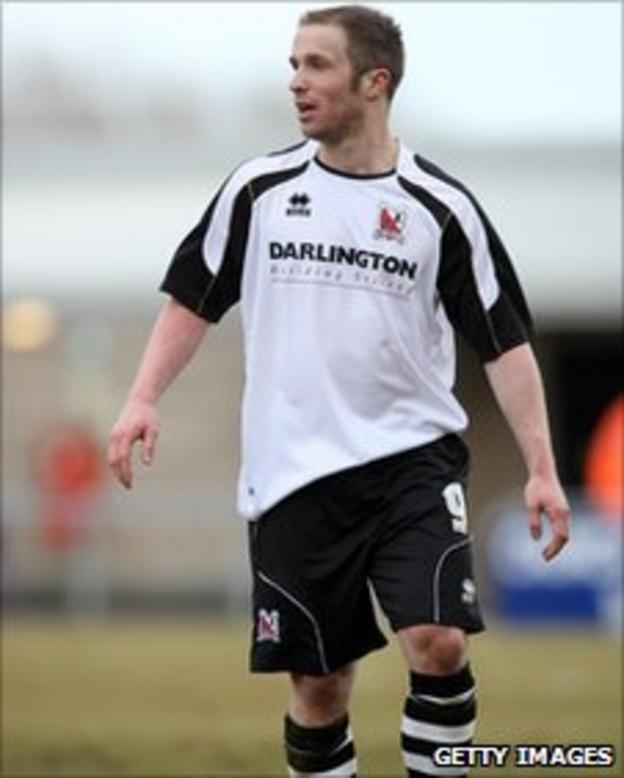 Gateshead boss Ian Bogie has said that he will offer deals to trialists Chris Moore, Kyle Nix and Ewan Moyes.
Midfielders Moore and Nix were released from Darlington and Mansfield Town respectively, while defender Moyes' last club was Hibernian.
Bogie told the club's official website: "I'd like to make a move on all three."
Bogie's summer signings so far are striker Yemi Odubade, midfielders Eddie Odhiambo and Micky Cummins and defender Sam Rents.
Bogie added that he has been impressed with Moyes' displays in pre-season friendlies against Huddersfield Town and Workington Reds.
"Young Moyes is someone I believe we can work with. The lad has a big character.
"He has an ankle injury but was determined to play at Workington and managed to get through the first half and did well," he said.
Winger Moore was in the starting 11 of the Darlington side that won the FA Trophy last season but was released by the club.
Bogie added: "Moore is a player who has got electric pace.
"Nix slots in there and gives us a nice balance in midfield."
Bogie also confirmed that he will also offer a deal to teenage midfielder Rob Briggs who played for Gateshead's reserves last season.
Briggs will be forced to choose between a football scholarship in America or a professional contract with Gateshead.
Bogie is hopeful Briggs will choose the latter.
He said: "Briggs is a product of Gateshead College's successful side and he impressed for the reserves last season.
"We need to look at, not just experienced players, but also young lads who are hungry and looking for an opportunity."