Tottenham boss Harry Redknapp still wants Luka Modric
Last updated on .From the section Football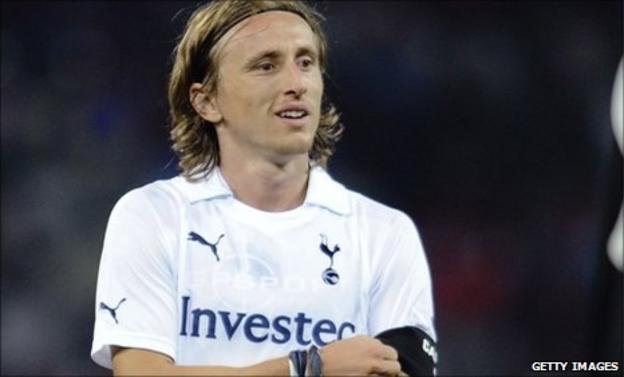 Tottenham boss Harry Redknapp has reiterated his desire to keep hold of unsettled midfielder Luka Modric, even if Chelsea push up their bid to £35m.
Spurs have rejected bids of £22m and £27m for Modric, who is believed to have handed in a transfer request.
"He is worth an awful lot more money than that [£35m]," Redknapp said. "Really we're not looking to sell Luka.
"[But] it is in the hands of the chairman, Daniel Levy. It's not my decision at the end of the day."
When reports emerged in the middle of July speculating that the gifted Croatia international had handed in an official transfer request, Redknapp told BBC Sport's chief football writer Phil McNulty that it was ultimately irrelevant whether the 25-year-old had or not.
"We know he wants to leave, whether he writes it down on a piece of paper doesn't really make any difference to our stance," the Spurs boss said at the time. "He's a great player and we don't want to lose him."
Chelsea have not as yet been back with a third bid, and while Redknapp is hopeful Modric will stay, the 64-year-old has hinted that it is not certain the midfielder will stay at White Hart Lane.
"I obviously want to keep him as the coach but the chairman says he is not for sale, so we'll have to wait and see," Redknapp said ahead of Saturday's pre-season match against Orlando Pirates in the Vodacom Challenge final in South Africa.
"We're quite determined, if we can, to hang on to him.
"But it is a difficult situation. It's a difficult one for Luka and it's a difficult one for Tottenham."
Modric only signed a new six-year contract at Tottenham in May 2010.