Scottish FA has high hopes for new disciplinary scheme
Last updated on .From the section Football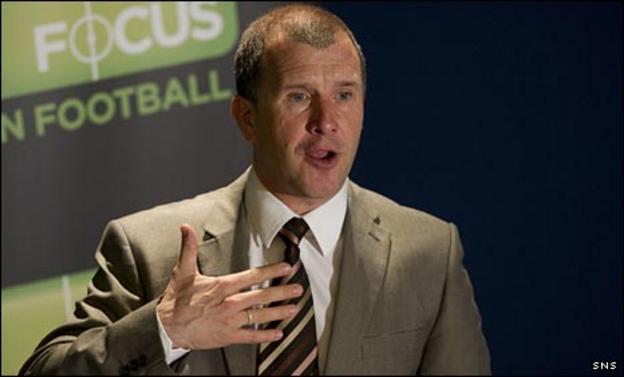 Stewart Regan has promised that the Scottish Football Association's new disciplinary processes will be "speedy, transparent and robust".
The chief executive has reformed the system and hopes it will avoid the problems that led to controversy and challenges by the Old Firm last season.
"The managers and captains have been told it is the start of a new era," said Regan.
"The response from the clubs was very supportive. They were impressed."
The new Scottish football season kicks off on Saturday with matches in the Scottish Premier League and Ramsdens Cup.
And the governing body has published new protocols that aim to streamline what were viewed as antiquated and cumbersome disciplinary rules and procedures.
A compliance officer will be recruited - there has been a temporary appointment in the meantime - and he will be key to the new "fast track" system that hopes to have disciplinary cases open and shut within a week.
The compliance officer, who will have criminal prosecution experience background, will activate cases that will be dealt with by a three-man judiciary panel, drawn from a list of 100 possible members in a "cab rank" system, with hearings taking place every week.
Regan, said the new process was developed with the help of the "best practices of Scottish rugby, the FA and the FA Premier League".
"We have appointed an interim compliance officer who has come from one of our legal partners," he said.
"He is working with us on a minimum three-month assignment until such times as we have appointed.
"He has been involved heavily in working with us to finalise the sanction policy and so on and we will be ready to hit the ground running this weekend."
In a bid to take some pressure off referees, sanctions could be imposed on managers and players who comment on officials before games.
In addition, one-point and three-point cautions have been scrapped and six yellow cards will incur a ban.
All players already sitting on points have been handed an amnesty going in to the new campaign, except if there is a suspension currently in place that has to be served.
However, Regan revealed that under new rules "road tested by two sets of lawyers and a QC", appeals that "have no chance" of being won could be punished by an additional one match suspension.
"If there are frivolous appeals, the panel will reserve the right to add on an additional one-match suspension as an extra sanction," he said.
"This is about trying to provide a speedy and more transparent process for the whole of football.
"If people try to 'play the system' or defer the decision then they will be dealt with."
Managers and players were informed of the new system at a presentation at Hampden this week and Regan was encouraged by the feedback.
"It is a clear message stating that the focus will be on the football," he said
"I don't think it will be plain sailing or seamless.
"There will be learnings and a review at the end of the season."