Rangers will bounce back, vows Steven Davis
Last updated on .From the section Football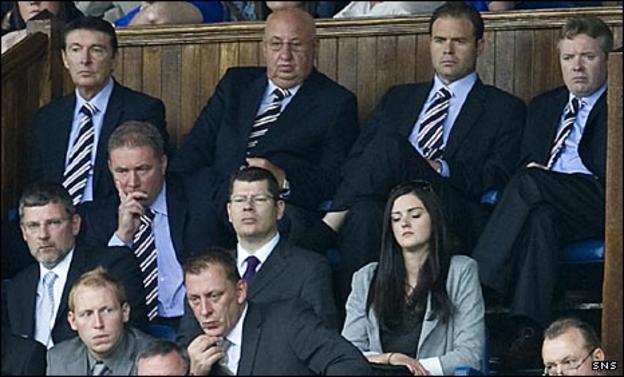 Steven Davis admitted there was an air of disappointment in the Rangers dressing-room after being held to an opening-day draw at home by Hearts.
"It is always a set-back to drop points, of course it is, but we'll not get carried away," said the midfielder.
"There's still a lot of football to be played and we know that.
"It is only the first game of the season, but you are looking obvioulsy to get off to a good start. We did not do that, but we will bounce back."
Rangers fell behind to an early David Obua goal before equalising through Steven Naismith after the break as Rangers sought victory in Ally McCoist's first competitive game as manager.
"He knew we could do better and he just had a quiet word," said Davis of McCoist's response to an under-par first half. "It wasn't a rollicking.
"Obviously, first home game of the season, you want to get off to a good start in front of your own fans.
"I think, the first half, we were a little bit sloppy in terms of the defending to give the goal away.
"The second half, we came out and created chances and were perhaps unlucky not to go on and win the game.
"I think the feeling is just one of disappointment."
However, Davis refused to use the unfurling of the Scottish Premier League before the game as an excuse for their slow start and McCoist did not blame the early season kick-off.
"I'm certainly not a fan of the early start to the season, there is no doubt about that," said the manager.
"But I wouldn't put that down as a reason for us starting the game poorly, not at all.
"To be quite honest, I thought we were disappointing in the first half. You have to give Hearts credit for the way they played, but we just didn't seem to get going in the first half at all.
"You sit back and reflect and, as disappointed as I was with the first-half performance, I was really pleased with the reaction from the players in the second half. We could have nicked the game."
Despite the result, McCoist is confident his side will be ready for the challenge posed by Malmo in Tuesday's Champions League qualifier.
"I don't think I'll have to lift the players, to be honest," he added.
"We have had a 1-1 draw against a team who are quite good to be fair and who are a lot of peoples' favourites to finish at least third in the league.
"I don't think I'll have to lift anybody. It will just be a matter of getting them regrouped."