Inverness manager Terry Butcher targets new signings
Last updated on .From the section Football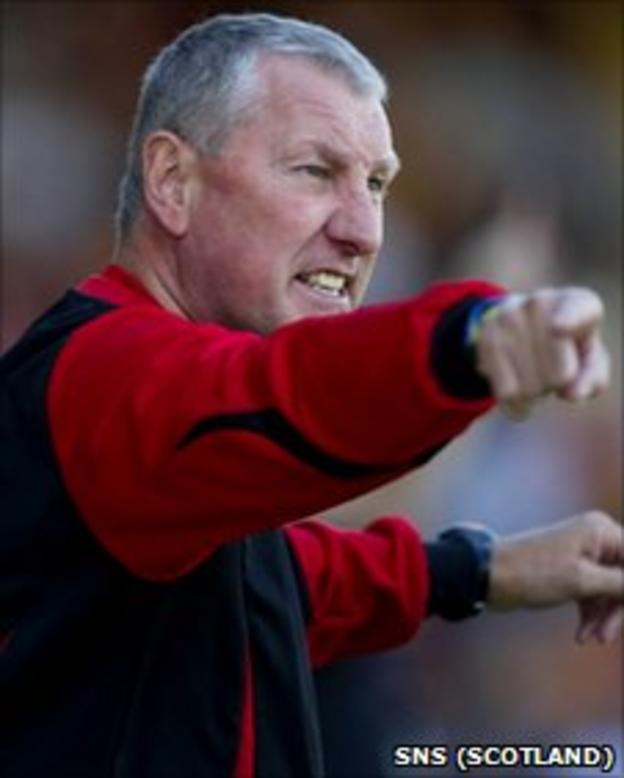 Inverness manager Terry Butcher is hoping to attract "one or two" players over the next week.
"Three-nil looks like a bit of a hammering but it certainly wasn't that," said Butcher. "It didn't look like a 3-0 game to me.
"We know the areas that we want to fill and we are making progress in those areas so hopefully we can do that."
Butcher, who clinched the signing of Austrian left-back Thomas Piermayr before the defeat in Lanarkshire, has been critical of the early start of the Scottish Premier League and still feels his team is developing.
"We are a work in progress," Butcher told BBC Scotland. "This team will get better the more the season goes on.
"Four injuries have certainly hurt us this week. We'll get one or two back next week allied with one or two in. From there it's a different story and then we can move on.
"There's a lot to work on. This team's never played together before in terms of SPL. It was Gregory Tade's first game with the first team and I thought he did really well.
"We looked not bad going forward but at the back we've got to be better and stop the team from scoring."
Butcher also felt his team were unfortunate not to score against his former club.
"We just didn't have that little bit of luck when it came to the post because Motherwell's first goal hits the post, hits our keeper in the face and goes in," added Butcher.
"We had a couple of shots. One shot from outside the box hit the outside of the post but the Greg Tansey free-kick from dead centre beat Darren Randolph and hits the inside of the post and comes out.
"You're talking about inches for our goal and inches for their goal.
"We defended poorly for the two goals that were scored in the first half but we could've scored ourselves.
"We changed it round a little bit in the second half and for half-an-hour I thought we did really well, looked as though we were going to get a goal or a chance and then Keith Lasley smashes one in and the game's over.
"I'm not down. It's not doom and gloom because we know that we can play and we have got the players in the side to do that added with the ones that can come in and then we'll see where we go from there."