Carlos Tevez rejects Sir Alex Ferguson's retirement claims
Last updated on .From the section Football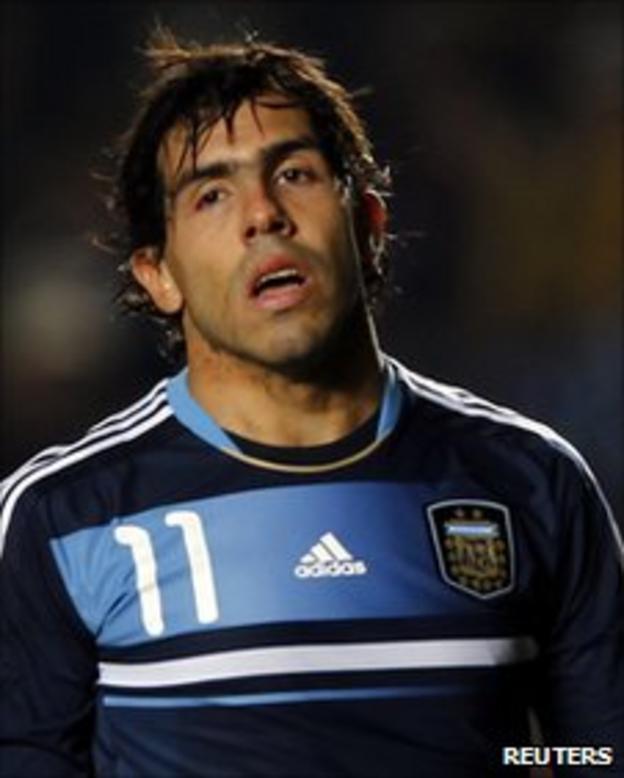 Manchester City striker Carlos Tevez has rejected claims he told Manchester United boss Sir Alex Ferguson he planned to retire.
Ferguson suggested Tevez stated he only wished to play for four more years while negotiating his contract in 2009.
But a spokesman for the 27-year-old said the issue was not discussed at any time with United's management.
"Carlos feels he is capable of playing for a further eight years," he added.
Ferguson reportedly made the comments during his side's pre-season tour of the United States.
The People newspaper quoted the 69-year-old as saying: "He told us at the time of negotiations that he was only going to play for four more years, so if we had signed him on a five-year contract knowing that he was going to quit in four years' time, there is no re-sale value for us."
A Manchester United spokesman on Sunday said Ferguson was talking about Tevez returning to Argentina as opposed to retiring.
Although the Argentine has openly discussed retirement in the past, Tevez's spokesman made it clear the player has no desire to bow out of the game yet.
"At no time did he discuss retiring with the Manchester United management and Mr Ferguson has not mentioned this at any time before.
"Though he has been in the form of his life, he feels he is only going to get better in the coming years."
Bad blood has existed between Tevez and United since his departure in controversial circumstances in 2009. After negotiations at Old Trafford broke down, he signed for local rivals Manchester City.
Despite scoring over 50 goals for City, Tevez made it clear he is no longer happy at Eastlands, suggesting on a Argentine chat show that he would never return to Manchester, even for a holiday.
A desire to be closer to his family in South America made the player enter negotiations with Brazilian side Corinthians.
The £40m deal looked on the verge on completion only for Corinthians to pull out, suggesting the transfer could not be finalised before Brazil's transfer deadline on 21 July.
Reports suggest City boss Roberto Mancini is ready to welcome the player back to Eastlands despite his public intentions.
Tevez has just returned from international duty with Argentina in the Copa America where he was the only player to miss as his side were knocked out by Uruguay on penalties at the quarter-final stage.