Manchester City's Mario Balotelli hauled off in friendly
Last updated on .From the section Football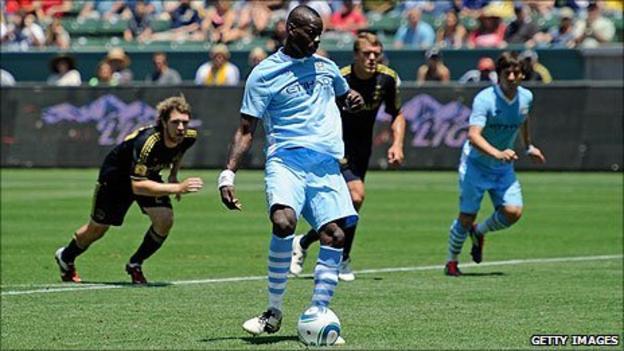 Manchester City striker Mario Balotelli was taken off early in a friendly at LA Galaxy after his manager thought he was failing to take the match seriously.
The 20-year-old was clear on goal but, instead of shooting, opted to drag the ball back before backheeling it wide.
"I hope this is a lesson," said boss Roberto Mancini, who denied Balotelli may have thought that he was offside.
"If you [Balotelli] are serious, you can play 90 minutes. If not, you can come and sit by me on the bench."
City earned a third victory on their pre-season tour of the United States, winning the game 7-6 on penalties after it had finished 1-1, but the match was overshadowed by Balotelli's actions, which prompted jeers from the crowd at the Home Depot Center.
Mancini argued with Balotelli as the forward, who prior to being hauled off had scored a penalty, left the pitch.
Balotelli threw his water bottle to the floor after eventually sitting in the dug-out, though he did not appear to watch the second half.
"In football you always need to be professional, always serious and in this moment he wasn't professional," added Mancini.
"He needs to understand his behaviour has to be good in every game - not just in a final or a semi-final but every game.
"He knows he made a mistake. Football should always be serious and if you have a chance to score, you should score.
"Mario is young, I want to help him and that is the end of it. To take him off after 30 minutes is enough punishment. It won't have been easy for him but it has to be a lesson."
When asked what Balotelli said to him as they exchanged words on the side of the pitch, Mancini said: "It was in Italian. In English I would find it difficult to give you the translation. But Mario is streetwise, he knows he was not offside."
It is not the first time that former Inter forward Balotelli has been in trouble with Mancini, who was also his boss at the Serie A club.
The striker inflamed several Manchester United players after he taunted the crowd following City's FA Cup semi-final win last April.
And he was also involved in a prank where he threw a dart at a City youth team player last March.
Balotelli joined City for £24m from Inter last August, but his season was interrupted by injury and suspension. He scored 10 goals in 28 appearances but received 11 yellow cards and was sent off twice.