Mjallby says Zaluska could remain first-choice keeper
Last updated on .From the section Football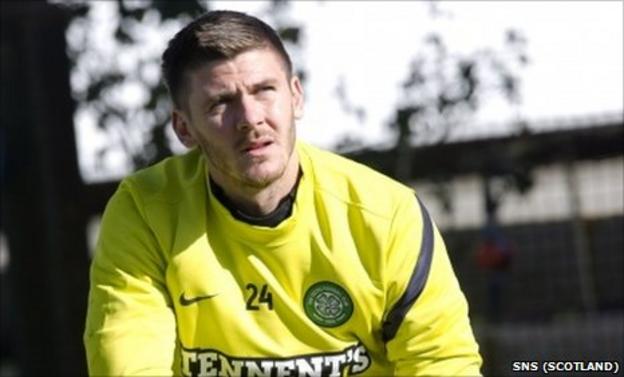 Johan Mjallby says Celtic's search for a goalkeeper doesn't mean Lukasz Zaluska is out of the running to be their first-choice goalkeeper.
Trialist Stipe Pletikosa will start their friendly against Wolves, but Mjallby says Zaluska is still in pole position.
"We have to wait and see if we can bring in someone else who can give him good enough competition," Celtic's assistant manager said.
"Who said he is not good enough to be number one?"
The club's search for another keeper has cast doubt on the confidence manager Neil Lennon has in Zaluska, who had a comfortable game in Sunday's 2-0 win over Hibernian.
Speaking last week, the Celtic boss said Pletikosa was first choice to join the club.
"We want to have really good come competition," Mjallby said.
"Remember last year we had Fraser Forster, who broke the record for clean sheets.
"We want someone who is as good as Fraser, if we can't have him, so there is competition."
The former Celtic defender is looking forward to taking on Wolves in the first of four challenge matches before the club resume their league campaign at Aberdeen in just under a fortnight's time.
"It is a great test," he added. "The Premier League is arguably the best league in the world and we want to show the people down south that we are good enough to compete with these clubs.
"When I was a player, it was really important for us."