Off The Bawl 25 July 2011
Last updated on .From the section Football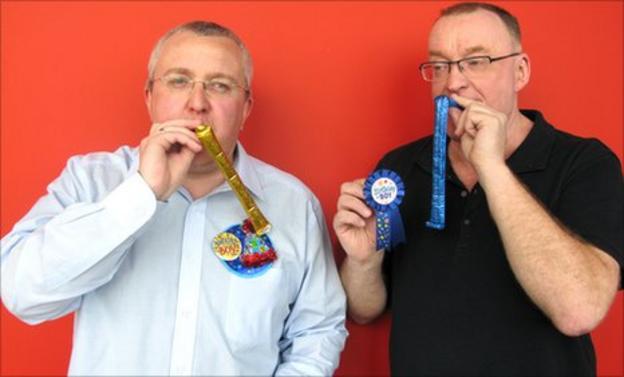 Greeeeeetings!
It was the first Saturday of the new SPL season and Off The Ball was back. And why not? As regular listener Jack from Perth said: "It makes the football almost interesting."
OTB is now (un)officially bigger in global terms than the Old Firm. Our contributors this week included Donald Galbraith who emailed from exotic Tongyeon in South Korea to say: "I'm listening to Off The Ball as usual as this place is actually rank. Give me Glebe Park on a dreich November night any day of the week."
Ally Bell got in touch from the Phillipines where he works. Well, that's his story and he's sticking to it...
And Raith fan Carol Smith emailed from Barcelona where she was penning her latest column for the Rovers match programme entitled "Paella and Bovril".
Our guest on Saturday was the former Aberdeen and Scotland striker Scott Booth, an ESPN pundit who rather annoyingly keeps staring into the camera when he's meant to be answering one of poor Ray Stubbs' questions.
That's one of Tam's major gripes - but what would you change about the fitba' media coverage this season?
In the week the Nepalese government ordered Mount Everest to be re-measured (the contract has been awarded to Michelle McManus's dressmaker) following doubts over its exact height, we examined some myths in Scottish football.
And, as a school playground in Edinburgh was named Britain's worst (it's just bare concrete with no equipment and huge potholes) we invited listeners to take a wee stroll down memory lane.
Here's a selection of the most petty and ill-informed emails and texts on radio...
FOOTBALL COVERAGE - TIME FOR A CHANGE?
Allan in Edinburgh said: "What really gets my goat about the BBC's telly coverage is that they spend more time talking about the games than showing us the actual highlights."
Eachann in Glasgow said: "I hate the widespread use of the word 'stonewaller' when describing an obvious penalty. Nearly every commentator and pundit uses this expression and it doesn't actually mean anything."
Alan in Scone said: "Does Sportsound really have to kick-off every night with 'let's start with Rangers/Celtic' before giving it 'let's now turn to the other half of the Old Firm' half an hour later? Give the other teams in Scotland a fair shout!"
Jockyboy in Falkirk said: "Any chance of finding a cure for 'just about' disease? As in 'McGregor just about got his hand to the ball'. No, I think you'll find he bloody well did!"
SCOTTISH FOOTBALL MYTHS
Jeff the Arab in Crieff said: "What about the way the media keep saying Hearts could split the Old firm the minute they win two games on the trot?"
Paul in East Kilbride said: "Managers saying 'No disrespect to...' is a complete myth. They clearly mean the exact opposite."
Paul en route to Pittodrie said: "The myth that decisions 'even themselves out' over the season. That's complete and utter bull."
David in Falkirk said: "What about the old 'West Coast Media Bias' myth? I'm sure fans of Ayr Utd, Kilmarnock and Greenock Morton - to name but three - might disagree. It's just a straightforward Old Firm Media Bias!"
PLAYGROUND MEMORIES
Mike in Kilmarnock said: "My most vivid memory is British Bulldog (aka unofficial bullying). It was straightforward boy-to-boy combat."
Ralph in Kilmarnock said: "Remember the days when a dug wandering into the school playground would cause no end of excitement?"
Kenny Campbell in Paisley said: "My memory is landing on an Alpine ginger bottle and bleeding all over the head mistress's car on the way to the hospital. Thirteen stitches later I was fine."
Barney in Neilston said: "Our playground was full of potholes and interspersed with cast iron poles! The SAS trained there during the school holidays, but they had to cancel as nobody completed the course."
TEAM OF THE WEEK - THE CIRCUS XI
Manager: Giovanni Trapeze-atoni
Celebrity Fan: Sea-lion Dion
1/ Barnum and Gary Bailey
2/ Greg Strong-man
3/ Stevie Camel
4/ Scott Clown
5/ Cirque du Sol Bamba
6/ Tommy Ring-master (c)
7/ Scott Ticket Booth
8/ Peter Bearded-lady
9/ Dung Can Ferguson
10/ Andy (Tightrope) Walker
11/ Harry Hoodini
AND FINALLY...
Off The Ball's Sunday Supplement returned this week and, as usual, it was a pretty weird show.
Was James Dean's last movie really finished by a lookalike? That was the claim from Jim Stewart in Glasgow.
And can apricot seeds cure cancer? That was the rather bold suggestion from Donny in Falkirk.
PS. The song that played us out? Well, as a tribute to Dundee Utd's European, ahem, campaign we finshed with The Von Trapp Children singing "So Long, Farewell"...
To join in the fun on this Saturday's show, call 0500 929500, text 80295 or email offtheball@bbc.co.uk