Dundee United reject new bid for David Goodwillie
By Jim Spence
BBC Scotland
Last updated on .From the section Football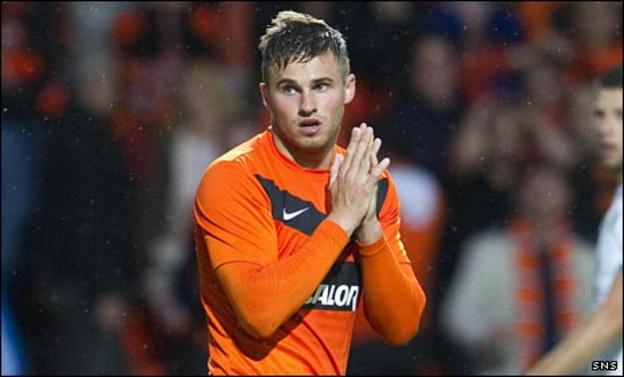 Dundee United have rejected a bid of over £1.6m for David Goodwillie with the club wanting £2m for the striker.
The bid, believed to be from Championship club Blackpool, is understood to have included add-ons.
Rangers and Blackpool have led the race for the player so far, with several English clubs also asking to be kept informed of the situation.
Manchester United and Arsenal have both been represented at United games in which Goodwillie has played.
Interest in the player has grown since a rape charge was dropped against him earlier this week, with up to 10 clubs now believed to be monitoring the situation.
Rangers, who had a bid of just over £1m rejected a few weeks, had a fresh approach turned down this week.
"First and foremost, he'll not be going anywhere unless someone puts money on the table," Houston told BBC Scotland.
"We've got here a lad who scored 20 goals or something like that last year in the SPL. That's brilliant for a provincial club like Dundee United.
"Rangers normally supply more chances than Dundee United - and I don't mean any disrespect to our boys - so how many goals is he potentially good enough to score for Rangers if he did go to them, for instance?"
Houston recalled Goodwillie suggesting that he would prefer a move to English football to escape the media spotlight that followed his court case.
"David spoke earlier that he wanted to go down south to get this nonsense out of the road," said Houston. "I don't know if that's changed yet.
"All I'll say to him is, think carefully where he is going to go.
"The chairman has made it well known what his valuation of the player is.
"If somebody wants to pay that and the chairman wants to accept it, David will be away."
Earlier this week Scotland coach Craig Levein said he will consider bringing Goodwillie back into the national team set-up following the court ruling.