Beckham backs 'great' Mario Balotelli after back-heel row
Last updated on .From the section Football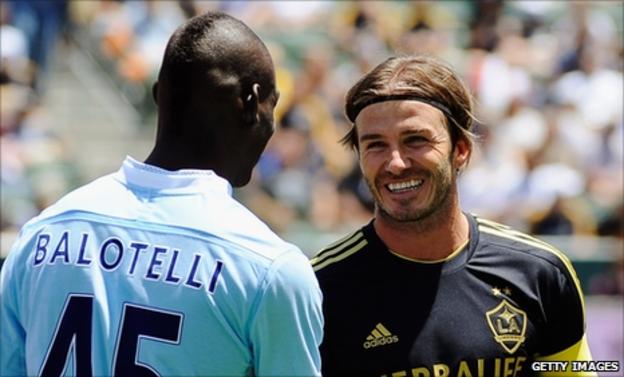 David Beckham has defended Mario Balotelli over the controversial back-heel which saw him hauled off in Manchester City's match at LA Galaxy.
Blues boss Roberto Mancini questioned the 20-year-old's professionalism after he languidly put a clear chance wide.
"I've watched it back and, from his mannerisms, I believe he thought he was offside," said Beckham, advising the Italian to still score in the future.
"Mario's been a great player for quite a few years and is still very young."
The former England captain, who used to play for City's rivals Manchester United, added: "He'll continue to get better I am sure.
"But it doesn't matter whether you think it was offside or not. There are a lot of young kids watching these teams and great players who come out here. You have to be professional and score the goal."
Mancini, who argued with Balotelli as the forward left the pitch after 31 minutes, insisted that the striker he used to manage at Inter Milan knew he was not offside.
"In football you always need to be professional, always serious and in this moment he wasn't professional," he said.
"Mario needs to understand his behaviour has to be good in every game - not just in a final or a semi-final but every game.
"He knows he made a mistake. Football should always be serious and if you have a chance to score, you should score.
"Mario is young, I want to help him. That's the end of it. To take him off after 30 minutes of the [friendly] game is enough punishment. It will not have been easy for him - but it has to be a lesson."
Watch Balotelli's controversial back-heel here [external site]