Referee Mark Halsey spends summer preparing for new season

By Mark Halsey
Premier League referee
Last updated on .From the section Football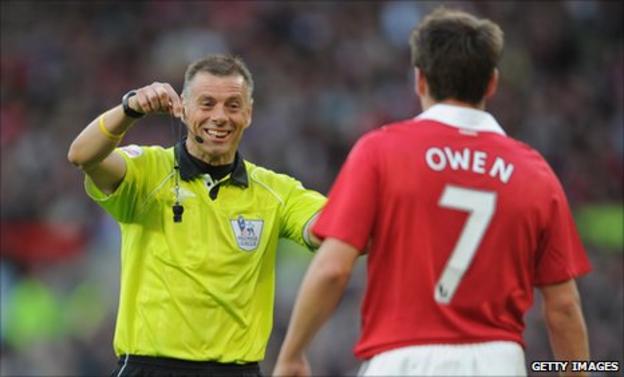 After a break of 83 days the Premier League returns this weekend - and I hope to be part of it.
Just like every fan and player, I have been building up to the new season for the last few months and I can't wait to get going again.
Last season was hard for me so I was determined to come back fitter than ever this summer.
It had been a long, difficult campaign and I felt I was under more pressure than any other referee after missing so much time with my cancer treatment.
As soon as the season finished I had a two-week break and it is nice to get away from the game altogether for a period - but it is not a holiday.
I work closely with the sports scientist and nutritionists at Bolton Wanderers, who tell me what I can and cannot eat. Even on a break I have to watch my diet.
I have to stay away from pasta and potatoes as much as I can and I don't drink alcohol at all. Having said that, my throat can't take alcohol any more after my treatment.
My wife organised a surprise 50th birthday party for me over the summer and she couldn't believe how disciplined I was - but you have to be or you will pay for it later.
A few people made comments about my fitness last season. It was an easy shot but it still hurt me.
Earlier in the summer, I went to Spain for a few weeks and spent a lot of time in a gym. After putting in a lot of work, I breezed the dreaded fitness test.
All referees in the Football League are put through the test and we have to run six 40m sprints in under 6.2 seconds, followed by 20 150m runs in 30 seconds, with 35 seconds rest between each one.
I understand why we have to do them because the game is played by athletes now and it is crucial that referees are able to meet the demands of the game.
I spend a lot of time training at Bolton and I was there when the players returned at the start of July. It was good to see them back as it is much easier to train in a group and there is a good sense of camaraderie between us all.
The elite referees have to wear a heart monitor during training and send in the results every week to make sure we are working at a high enough intensity. What's more, my body fat is measured every two weeks so you cannot ease off at all.
This season there are no new laws for me to take on board so it is business as usual come 13 August. I will not find out which game I will be refereeing until the Monday before, when I will receive a phone call with the news.
There are 18 referees in the select group so not everyone can do a Premier League game on the opening day - but that is what we all want to do.
You are just like a player, you want to do well and have been looking forward to it all summer, but once the whistle goes and the game is under way I know that wherever I will be I'll be fine.
I have to go back to hospital every three months for a check-up as the cancer could come back at any time. I'll see how I feel next May but I like to think I have got another couple of seasons left in me.
When I was diagnosed with cancer in August 2009 I didn't know if I would still be here now, never mind refereeing in the Premier League, so I feel like I have won the lottery.