Celtic's Anthony Stokes happy to fight for place
Last updated on .From the section Football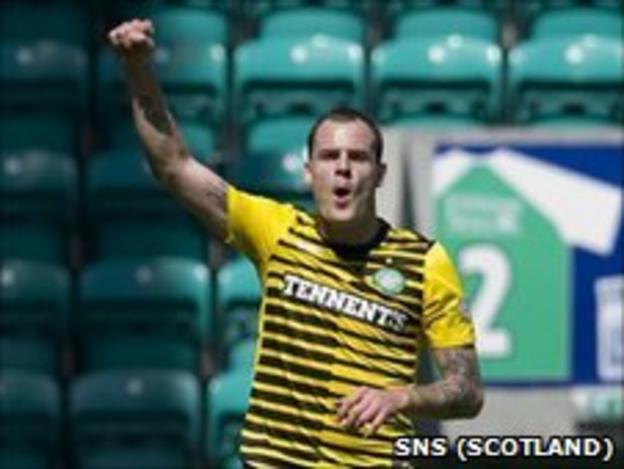 Celtic striker Anthony Stokes has not sought guarantees from manager Neil Lennon about playing regularly.
"There's no point in me speaking to him because if I'm not doing it on the pitch, it doesn't matter," Stokes said.
"There's no guarantees whatsoever, I just have to do as well as I can and hopefully I'll play."
Stokes finished last term with 20 goals, the first of which was for Hibs before clinching a move to Celtic.
"I left it the way it was at the end of last season. I knew that there were going to be players coming in and I just have to work hard," Stokes said.
"All I can try and do is score goals when I play and work as hard as I can in training.
"Last year proved that because I went on runs where I was scoring week in, week out and then I was left out of games. Every game is different and the gaffer looks at it like that."
Celtic are not back in league action until early August, with Lennon's men playing a series of friendlies including this weekend's Dublin Super Cup.
"It is a bit strange," added Stokes. "Going by the other day, we can use the sharpness. When I heard about it at the start, I was a bit dubious but I think now it really will be good for us.
"And for me it's good getting to go home for the Dublin tournament so I'm happy about it."