Robbie Savage concerned by Wrexham's plight
Last updated on .From the section Football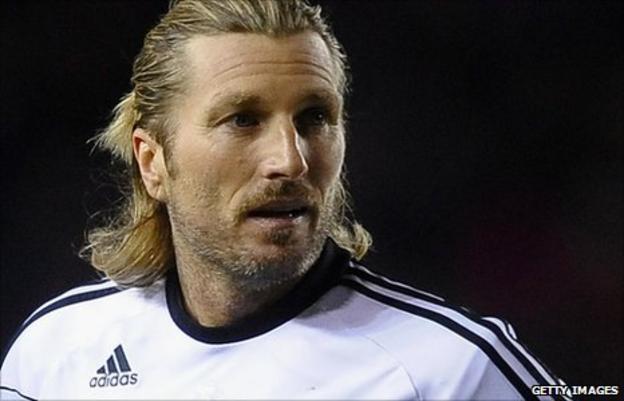 Former Wales midfielder Robbie Savage says he would be prepared to put money into the right consortium seeking to buy troubled hometown club Wrexham.
But the fate of the Blue Square Bet Premier side remains unclear as a new season fast approaches.
"I don't know the ins and outs but if Wrexham were to go out of business it would be so wrong," said Savage.
A number of groups, including Wrexham Supporters Trust (WST), have shown an interest in buying the club.
The current owners say delays in reaching a deal with WST to buy the club has prompted talks with two other parties.
Savage, who finished his playing career with Derby at the end of last season, used to watch Wrexham games from the Kop terrace at the Racecourse.
He says the club's facilities, including the training complex at Colliers Park, make it an attractive proposition for potential owners.
"It's a fantastic club for someone to take over," said Savage. "If I had the money I would. But I haven't got the money.
"Running a football club or being involved in a football club is very, very hard.
"I don't know how much Wrexham would cost to take over. I'd be willing to put money into it if there was 100 people who had £10,000, £20,000.
"I'd be one of them people who'd do it. But there's not many of them people out there.
"I couldn't afford to put a huge amount of money to run a football club but I'd be willing to form a syndicate with somebody to try and help them out.
"If there's [a] rich businessman in the north Wales area who would be willing to put something to me then I'd like to get involved to help save the team I supported as a boy."