United stirker Goodwillie eyes England move - Houston
Last updated on .From the section Football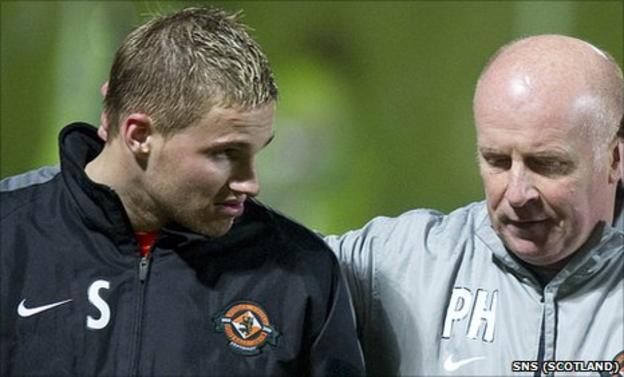 Dundee United manager Peter Houston says David Goodwillie has indicated that his preference is for a move to England.
The striker is understood to have attracted interest from up to 10 clubs, including two bids from Rangers.
"I think he would be better served going down to England or abroad and proving himself and I believe he wants to do that as well," Houston said.
He also thinks reports linking Goodwillie to Celtic are "nonsense".
"In my honest opinion, with his off-field problems, coming to Glasgow isn't the best thing. I said that and I still stand by that," he added.
"You know the troubles that can happen here in Glasgow - and I'm a Glaswegian.
"It's a crucial move, he has a decision to make.
"He has to grow up and be a mature person and I think he's getting there.
"I think he's had a couple of frights recently. He has to move on and think solely on a football career that can be a very good career."
A rape charge against the striker was dropped earlier this week after The Crown Office said there was insufficient evidence in law for the case to proceed.
Houston has praised Dundee United chairman Stephen Thompson for standing by his £2m valuation of the player.
"It is not up to me, it's up to David where he wants to play and first and foremost it's up to a club to pay Stephen Thompson the money he and I think he is due."
"The chairman is asking for £2m and we don't think it is an awful lot of money compared to some strikers who have moved in England.
"Goodwillie is good enough to be a £2m player."
On Wednesday the Tannadice club rejected a bid of £1.6m for the striker but Houston insists the club will not stand in Goodwillie's way if their valuation is met.
"Let me tell you, David will be right out that door as soon as a club pays the right money.
"I admire the chairman for holding on with some of the offers that some clubs have put in because they are ridiculously low."
And Houston said he has no knowledge of a reported bid from Celtic.
"The first I knew about that was when I looked at the back page of a newspaper this morning," he said.
"I think it is absolute nonsense."