Wrexham fail to pay their players
Last updated on .From the section Football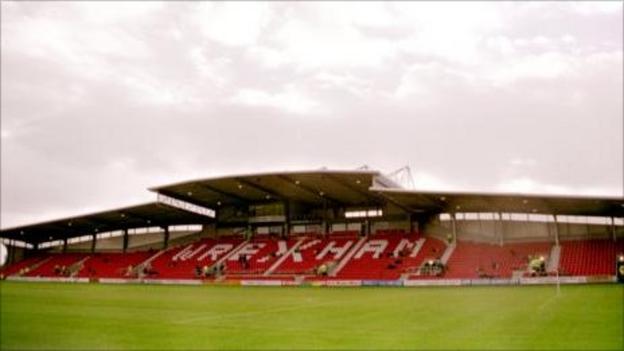 Wrexham have cancelled two pre-season friendlies because of players' wages not being paid this month.
Wrexham Supporters Trust have been involved in a lengthy bid to buy the club from owner Geoff Moss.
Manager Dean Saunders confirmed the players have not received their wages.
Games at Colwyn Bay on Thursday night and at Vauxhall Motors on Saturday have fallen victim to the situation.
Wrexham's 2011-12 Blue Square Bet Premier campaign is due to get underway at the Racecourse against Cambridge on Saturday, 13 August.
Saunders said: "The players are due to be paid at the end of the month and I've been told that they're not going to be paid, so I've informed the players so that they they're not shocked.
"I've come in after training, they've had a meeting among themselves and they don't want to play.
"They've made a stand, really and I have to respect their decision.
"We've had problems in the past, but that's just been a couple of days late or whatever.
"I've always been able to say 'you'll get paid on Monday'.
"But this time I've not been able to give them that date.
"And obviously we've got out-going owners and incoming owners, which is creating a bit of a vacuum in between while they are coming to a deal.
"The players haven't got any idea when they're going to get paid so they're all a little bit worried about getting injured because they've seen the rugby team... and what's happened there.
"They've seen players sign three-year contracts that are then null and void and if they got injured it could stop them going anywhere else.
"I have to respect that and hopefully we can get it resolved and we come back a stronger outfit."
Wrexham stated on their website: "Our apologies to Colwyn Bay and all supporters, but tonight's friendly at Llanelian Road has had to be postponed due to internal issues at the Racecourse."
Saunders saw his side challenge for a return to the Football League last season, but the effect of the lastest twist in the club's saga has yet to unfold.
Wrexham striker Gareth Taylor said: "We've just been informed that there's going to be a problem with the players being paid tomorrow [Friday] when the players are due to be paid.
"Obviously there's the on-going situation of the potential takeover of the club and obviously while that's not been sorted out, it creates a problem for the playing staff - and obviously the working staff at the club as well - so hopefully that can be sorted out sooner rather than later."
The supporterss trust and club backers have so far failed to reach an agreement over the club changing hands.