I can cope at Man City without Tevez - Sergio Aguero
Last updated on .From the section Football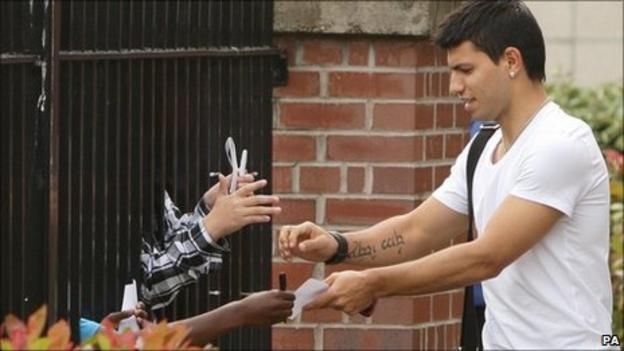 Record Manchester City signing Sergio Aguero says he does not need fellow Argentine Carlos Tevez to stay at the club to acclimatise to England.
Aguero, 23, completed a reported £38m move from Atletico Madrid on Wednesday, apparently paving the way for the unsettled Tevez to leave City.
Italian giants Inter Milan are thought to be lining up a move for Tevez.
"If he is here, then that is great. If not, then I will adapt without him," said Aguero.
"Who is here and who is not does not matter, what is important is that I become part of the team. It is easy to adapt these days.
"We are good friends and play together in the national team but whatever he does is up to him, I just want to concentrate on playing here."
Tevez, who wants to be closer to his wife and two daughters back in South America, saw a return to his former club Corinthians in Brazil fall through earlier this month.
However, Aguero does not think he or his family will have any problems adapting to life in the north west.
"They are living with me now," Aguero said on Thursday, referring to his wife Giannina, daughter of Argentina legend Diego Maradona, and their son Benjamin.
He added on Manchester City's website: "There will be friends and family coming to see me and I was in the same team as Maxi [Rodriguez, the Liverpool midfielder] and I get on well with him, we are good friends.
"I am sure I am going to enjoy myself here and life will be fine."
Beyond his first season at City, Aguero is keen to help Argentina try to defend their Olympic football title at the 2012 Games in London.
He scored twice in their 3-0 semi-final victory over Brazil in Beijing three years ago and Argentina went on to beat Nigeria 1-0 in the final to win gold.
"I was very happy to experience the Olympics at first hand. All the people were fantastic and we had a great time," Aguero said.
"And to top it all we managed to win it, which was fantastic. It's something all of us will remember. Whenever the national side calls you up I'm always ready to go and represent my country.
"Obviously I'd be really happy. Playing even one minute or one second for my country is something very special for me."
Meanwhile, Atletico's president Enrique Cerezo has criticised Aguero's conduct this summer in the wake of his move.
Cerezo told Spanish radio station COPE: "He had a [buy-out] clause in his contract and City have paid it but I still wonder what we have done for him to treat us in this way.
"Things could have been done better but we have to focus on the season because we no longer have Aguero."