Chelsea boss Andre Villas-Boas expects Man City fight
Last updated on .From the section Football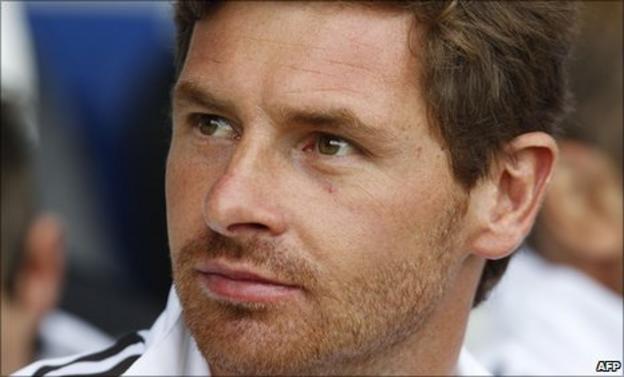 Chelsea manager Andre Villas-Boas is expecting Manchester City to be serious contenders to win the Premier League this season.
Only Chelsea, who signed Fernando Torres from Liverpool in January, have spent more on a transfer in Britain.
"I think it's pretty clear that they are building a squad to fight for the title," Villas-Boas said.
So far this summer, despite interest in the likes of Tottenham's Luka Modric, the Stamford Bridge Club have been unusually quiet in the transfer market as title rivals Manchester United and City have invested heavily in new players.
Villas-Boas, who was appointed as Carlo Ancelotti's replacement last month, added: "It's for [Roberto] Mancini to say what his objectives are but my personal perspective is that they are making good signings and that they can threaten for the league.
"I think Man United as the title holders will be a reference for everybody but you can see the amount of activity Manchester City have had in the market. It's pretty clear they have a title objective as well."
The former Porto boss is also aware of the threat that Liverpool, Tottenham and Arsenal will bring in his first season as a manager is England.
"Liverpool did more or less the same [last season], Tottenham want to get back into the top four so they'll be challenging and Arsenal are always a threat - we haven't seen the last of them in the transfer market.
"Everybody is strengthening and as long as everybody feels happy with what they have, everybody competes in a different way."
Chelsea have focused on bringing in younger players like Oriol Romeu and Thibaut Courtois over the summer, but Villas-Boas knows such signings are part of a longer term plan.
"It all boils down to the evaluation period, there's still plenty of time for those decisions," Villas-Boas added.
"The players that we have shown interest in are young and looking to the future of the club, you might see similar moves in the future from us.
"Ours is one of the oldest squads in the Premier League, we respect them and we are happy enough with the quality that we have to challenge for the title but we are also looking into the future."