Rangers made approach too late - Kenny Miller
Last updated on .From the section Football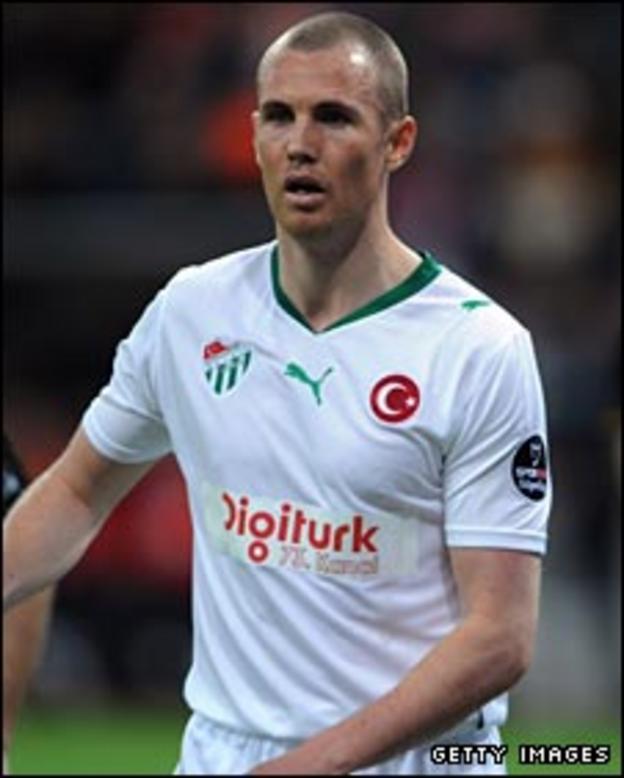 Kenny Miller says Rangers made their approach too late to take him to Ibrox for a third time and that Malky Mackay sold him on a move to Cardiff City.
Miller completed his transfer to the Championship club from Bursaspor on Tuesday for an undisclosed fee.
"I had given Malky my word and I thought it was too late to do a U-turn," he said of the Cardiff manager.
"It is something new. I have been to Rangers a couple of times and this was a new challenge."
Miller had made it clear at the end of the season that he wanted to leave Bursaspor only six months after the 31-year-old joined the Turkish top-flight outfit from Rangers.
And he was impressed with fellow Scotsman Mackay's plans for Cardiff after the former Celtic defender himself made his move from Watford.
"In three of the last four years, they have been in the play-offs and have been very unfortunate not to be promoted on a few occasions," said Miller.
"So that's always a draw as well - a chance to go for a big promotion push this year.
"The gaffer's been superb with me the last few weeks. He has helped us through a lot of tough times over in Turkey and he was probably one of the main reasons I came here."
Mackay has set about restructuring his squad ahead of next weekend's kick-off.
"He has made a lot of new signings and that is always going to happen when a new manager comes into a club," said Miller.
"Anybody I have spoken to has good words about him."
One of those new signings is Rob Earnshaw, the Welshman having moved from Nottingham Forest and who could form a strike partnership containing two international captains.
"I played with wee Earnie at Derby for a year and he is a fantastic player and a great goalscorer," said Miller.
"Obviously we've a lot of strikers at the club now, I think there's six of us at the moment, so all of us will be vying for two positions if the manager chooses to play that way."
Miller does not believe that playing for a Championship club will hinder his own chances of adding to his 55 caps.
"I've played in the Championship before and I was still part of the set-up," he said.
"So, as long as I am playing and performing well, I am sure the manager will be happy to keep selecting me - I hope.
"I feel I have had, off the back of being at Rangers and the four or five months at Bursa, I have had three fantastic seasons, probably three of the best of my career, and hopefully I can carry that on and get a lot of goals and get us promoted to the Premier League."
Miller does not regret joining Bursaspor, despite his move turning sour.
"At the time, there were not a lot of options on the table for me," he said.
"I did want to try something new and going abroad was something I always quite fancied, so I wanted to give it a go.
"I enjoyed the football, but it was a totally different life for my family and it became very, very hard.
"It is a different kind of set-up across there in terms of training and my family were sitting about a lot on their own and that made it very, very difficult for them to be there."