Danny Lennon says St Mirren have potential for top six
Last updated on .From the section Football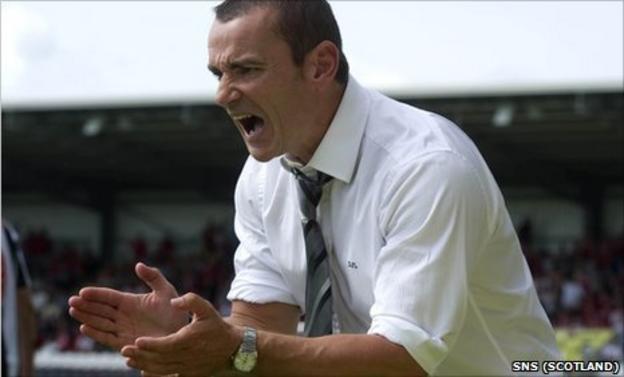 St Mirren manager Danny Lennon says he wants his team to aim for the top six after picking up their first win of the new season against Aberdeen.
And he hailed Nigel Hasselbaink's "terrific" debut goal for the Buddies in the 1-0 victory at St Mirren Park.
"The most important thing was getting the three points," he said.
"We worked hard as individuals, but more importantly we worked hard as a team. I thought the work ethic was fantastic."
After a frustrating season opener against Dunfermline on Monday, the St Mirren boss admitted he was relieved to see Hasselbaink's strike hit the back of the net.
"It was an absolutely terrific goal," Lennon said.
"We said on Monday evening we had to get more bodies in the box.
"We were certainly getting them in to the box today. And, although we could have converted one or two more, I was absolutely delighted with the quality of the goal which won it for us."
The win puts St Mirren top of the league after two matches, but Lennon says they won't read anything into league positions at this stage.
"We certainly won't get carried away," he said. "We believe in what we're trying to achieve at this football club.
"We are trying to build a winning mentality.
"I've always said that our ambition has got to be to reach that top six.
"It's an achievement on its own to survive in the SPL, but that can't be our sole ambition.
"That doesn't mean that we put ourselves under pressure to achieve those goals, but it has to be our ambition if we want to improve as a football club."
While opposite number Craig Brown bemoaned an "indifferent" Aberdeen performance, Lennon thinks the Pittodrie side have progressed since last season.
"They're very much an improved side this season," he added.
"Craig and Archie Knox have had the chance to make changes and are stamping their own character on Aberdeen."