Kenny Shiels hails goalless draw as 'great advert' for SPL
Last updated on .From the section Football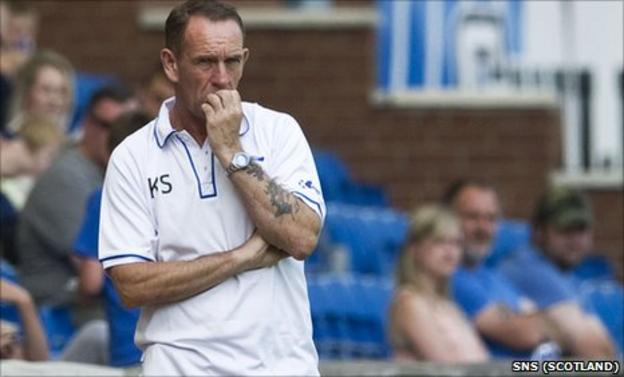 Kilmarnock manager Kenny Shiels says their match against Motherwell was a terrific advert for Scottish football, despite ending in a goalless draw.
The Rugby Park boss says the Scottish Premier League should reconsider plans for reconstruction after an entertaining start to the season.
"It was a fantastic performance from my players and Motherwell's players," he said.
"The priority is to win, but what a fantastic game it was."
And Shiels thinks the start to the season has been a good one across the league.
"I've seen five games this season, and they've all been highly entertaining," he told BBC Scotland.
"Teams are playing with guile and craft and intelligence. You don't get that in England.
"When they talk about SPL reconstruction: why would you want to reconstruct that?"
Shiels says his club are undergoing a reconstruction of their own as they build for the new season and he hopes to see the fruits of that endeavour soon.
"I would say we are lacking a wee bit of punch," he said.
"We are at the early stages of reconstruction. Motherwell have a team that has been together for quite a while.
"They are an example of a team with cohesion and continuity.
"I'm more than pleased with the direction we are moving in.
"You can be pedantic and pick little things about why there were no goals.
"The goalkeepers were very good - that's one of the reasons.
"But we do need to be sharper in the final third, more penetrative and productive."
The Kilmarnock manager's son, Dean, joined the club on loan from Doncaster just in time for the match against Motherwell, coming off the bench in the 73rd minute.
And his father is hopeful that the 26-year-old can help get Kilmarnock on the scoresheet as the season progresses.
"He can get himself into good positions and he's got good craft and he gets goals," he said.
"He didn't get one today, but I think he's got the potential to do that."