Wales manager Gary Speed upbeat over World Cup draw
Last updated on .From the section Football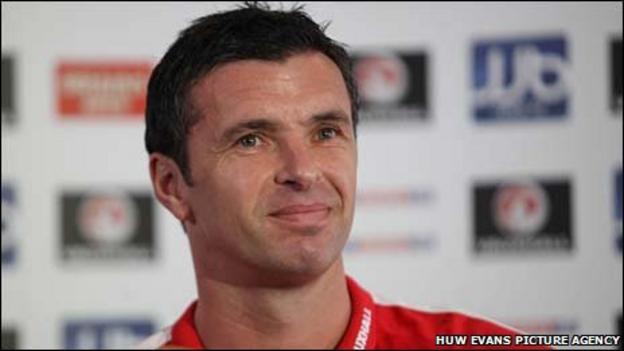 Gary Speed said he was satisfied with Wales' draw for the qualifying stage of the 2014 Fifa World Cup.
Wales, the lowest seeds in the group, will face Croatia, Serbia, Belgium, Scotland and Macedonia in Group A.
"I'm very excited about it," said Wales manager Speed. "It's tough obviously. If you look at the teams in there, they are all strong teams.
"There's no weak team. But we have avoided Spain, Italy, England. So I feel pretty confident about the group."
Speed was fearing the worst after Wales found themselves amongst the lowest eight ranked nations for the European section of the draw, which was held in Rio on Saturday.
Wales were the first team drawn out of pot six, but Speed said his sense of dread eased as the draw progressed, which ended with Croatia joining Group A from the pot of highest ranked seeds.
They joined two other Balkan countries in Serbia and Macedonia, and with Wales set to renew their long-established rivalry with Scotland, the group has a distinct local derby feel.
"I was speaking to the Croatians after the draw and they weren't too happy with that side of the draw," said Speed, who was appointed Wales manager in December 2010.
"It's one of those groups that everyone can beat anyone so I think it will be a wide open group.
"We have a lot of work to do between now and then but I am really confident about our chances because of the players I've got and the attitude they've shown so far while I've been in the job.
"I'm really looking forward to the next 12 months to get them ready for the start of these World Cup qualifiers."
Speed says Wales certainly have a score to settle against Scotland, having suffered heartbreak in two crucial World Cup qualifiers.
Scotland striker Joe Jordan's handball fooled the referee to award the Scots a late penalty which led to a 2-0 victory in 1977 and took the Tartan Army to the finals in Argentina a year later at the expense of the Welsh.
And in 1985, a dubious 80th-minute penalty gave Scotland a 1-1 draw and again shattered Welsh hopes of reaching the World Cup finals for the first time since 1958.
"History shows we were very, very unfortunate on those occasions," said Speed, who saw his under-strength side lose 3-1 to Scotland in May.
"There was a Joe Jordan handball and a dodgy penalty. But that's in the past and we'll be looking forward to the games with Scotland. We're obviously quite close neighbours so it should be a good game."
The qualification games begin in September 2012, with the finals taking place between 12 June and 13 July in 2014.
Brazil has suffered delays in their preparations, but having attended the draw in Rio and felt the sense of anticipation around the city, Speed says there could be no greater incentive to reach the finals.
"I wished I could have brought the whole squad out with me this weekend because it did whet the appetite," he said.
"If they could have seen what has gone on and see Copacabana beach - it's a great place. It's certainly mouth-watering and makes you want to come back again in 2014."
Only the nine group winners from the European section are guaranteed a place at the finals in Brazil, with the eight-best second-placed teams playing off against each other to go through.