Tottenham Hotspur's Luka Modric has not issued transfer request
Last updated on .From the section Football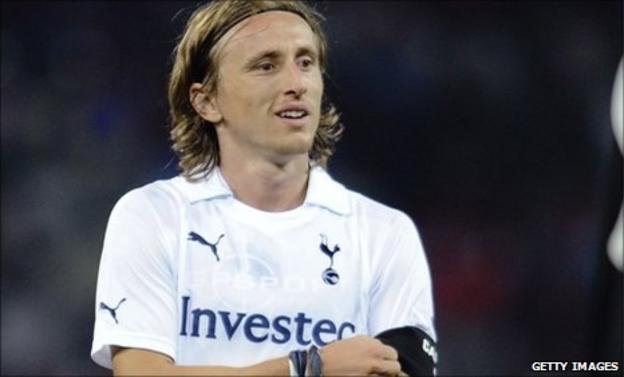 Luka Modric has not handed in an official transfer request, with Chelsea set to decide this week whether to make a third bid for the Tottenham midfielder, BBC Sport understands.
The 25-year-old has hinted he would like to join Chelsea, who have had bids of £22m and £27m rejected this summer.
Chelsea chief executive Ron Gourlay and manager Andre Villas-Boas will discuss whether to make a third offer or not.
But Spurs chairman Daniel Levy is adamant his club will not sell Modric.
It had been thought Modric had handed in a transfer request, but it is now understood that this is not the case and Tottenham do no expect him to do so.
Modric's agent has also previously said that the Croatia international has no plans to hand in a request to leave north London.
Tottenham have said Modric was not for sale "at any price", but assistant manager Kevin Bond told talkSPORT on Monday: "We desperately don't want to lose him, but everyone has a price.
"If somebody came along and the money turns your head and he did go - although the chairman is adamant he doesn't want to sell him - then we'd have to get on with it."
Bond later added in a statement: "For the purpose of clarification and in case my comments this morning inadvertently misled anyone, the club's position on Luka Modric is quite clear - we have no intention of selling him."
Tottenham manager Harry Redknapp's most recents comments on Modric, who captained Spurs on their pre-season tour in South Africa, were that it was down to Levy, and that he felt the player was worth much more than Chelsea had bid.
Spurs also have the reassurance that Modric is tied into a long-term contract at White Hart Lane.
As well as Modric, Chelsea have been heavily linked with Palermo playmaker Javier Pastore - who is reportedly on the brink of joining Paris St Germain - and Anderlecht striker Romelu Lukaku.
The west Londoners have also , who could help fill the void left by the serious knee injury suffered by the influential Michael Essien.