Arsenal midfielder Jack Wilshere hopeful after ankle scan
Last updated on .From the section Football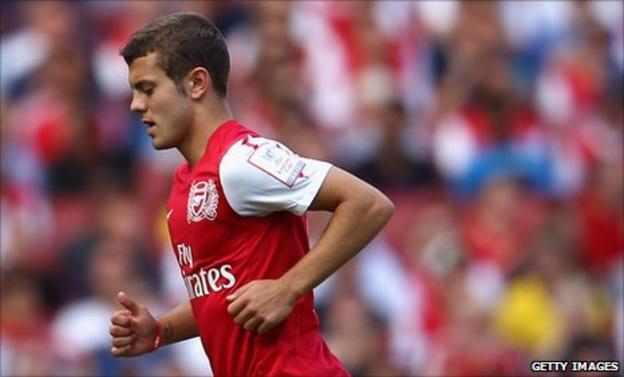 Jack Wilshere could miss England's friendly with the Netherlands on 10 August after suffering an ankle injury in an Arsenal pre-season match.
Boss Arsene Wenger withdrew the 19-year-old midfielder as a precaution seven minutes into Sunday's Emirates Cup draw with New York Red Bulls.
Wenger said it was not a torn ligament and Wilshere underwent tests on Monday.
He tweeted on Tuesday: "Ankle scan just showed some inflammation. Hopefully will settle down in a few days."
Gunners medical staff predicted a week's absence, but Wenger did say there was still a chance Wilshere could make a swifter recovery ahead of his side's final pre-season friendly at Benfica on Saturday.
"If he's out next week, he will not play in Benfica, so he will certainly not play for England," he said.
"They told me that next week he might be out," he said. "[But] he's a quick healer usually, and a tough boy, so I hope he'll be quicker than the medical prediction."
England manager Fabio Capello is already without Wilshere's fellow midfielders Steven Gerrard and for the international match at Wembley.
One of Arsenal's strongest players last season, Wilshere appeared to cement his place in Capello's starting XI at the end of last season.
Meanwhile, New York striker Thierry Henry was denied the chance to play the last five minutes for Arsenal in Sunday's game.
He had agreed with Wenger that he would switch teams for the last five minutes of the friendly.
But referee Kevin Friend refused permission as Fifa rules state that a player cannot appear for both teams in the same game.
"He was desperate to do it, but the referees stubbornly turned it down," said Wenger.
"I went in to see the referee at half-time to ask him to allow him to play for us but they told us that the rules are absolutely, adamantly against it because one given player cannot play for two teams in the same game."