Inter's Wesley Sneijder coy on Manchester United move
Last updated on .From the section Football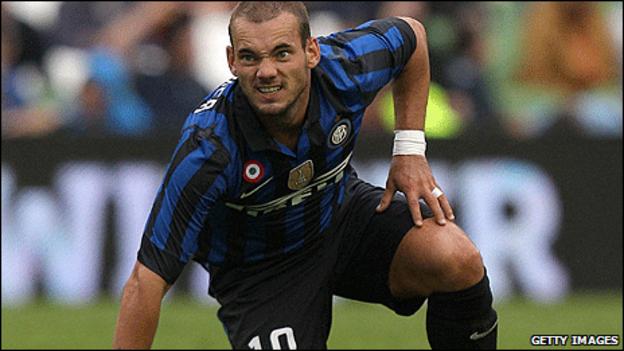 Inter Milan midfielder Wesley Sneijder has refused to rule out a move to Manchester United but is likely to have to lower his wage demands to seal a move to Old Trafford.
"There is always a chance something will happen but we will see," he said.
The 27-year-old Dutchman is valued at around £35m but has a reported weekly wage of £250,000.
Manager Sir Alex Ferguson has denied reports he said a deal has been offered to Sneijder before a fee was agreed.
Manchester United have so far signed keeper David de Gea, defender Phil Jones and forward Ashley Young this summer but may wish to add a midfielder to that list following Paul Scholes' retirement at the end of last season.
Ferguson has previously said he has "no real interest" in Sneijder, but Gian Piero Gasperini, the Inter manager, acknowledged that there has been an offer for the midfielder.
Gasperini has told United they must speak with his club, and not the player, if they want to conclude a deal.
"I appreciate there's been an offer, but it's with Inter the negotiations should take place," said Gasperini.
"I'm not necessarily worried, it's normal in this time to have this type of situation. The market is open to 31 August, and it will continue to happen until then.
"It's not just Inter, it's the same with other big clubs who have players that are object of desire for big clubs."
Sneijder, who has previously spoken of his commitment to Inter, added at the weekend: "What is going to happen we will see, but I am a happy guy.
"There is always speculation, every year. I have been at the highest level for 10 years and there is always speculation, but look, I am still here.
"I am happy to train every day with my colleagues and play my games for the fans and every one at the club and whatever happens after that, we will see."