Botswana coach unsure of post-Nations Cup future
Last updated on .From the section Football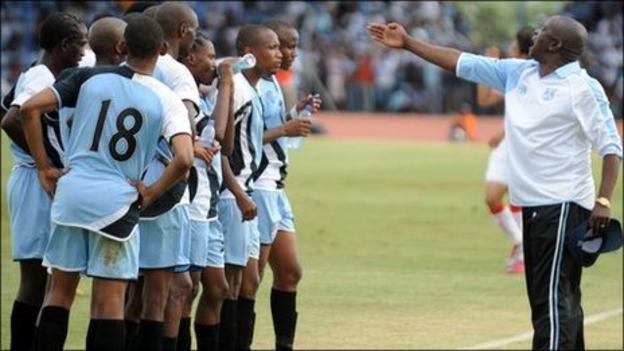 Botswana coach Stanley Tshosane has yet to be offered a new contract despite leading the Zebras to a maiden Africa Cup of Nations finals.
Botswana's most successful coach is currently preparing for next January's finals - but not the 2014 World Cup.
"I shouldn't talk about it too much because I'm not sure whether I'll be the coach then because my contract ends in March next year," he told BBC Sport.
"I would like to stay but it will depend on talks with the Botswana FA."
Nonetheless, Tshosane was prepared to cast his eye over the Zebras' 2014 World Cup qualifying draw against South Africa, Central African Republic and Somalia/Ethiopia.
"It helps that we know South Africa so well, and this will be an advantage for both of us," he said of Botswana's neighbours.
"Our World Cup qualifying group is tough, but not as tough as the 2012 Nations Cup qualifiers."
"Playing in the Nations Cup will help us prepare for the World Cup qualifiers, as we'll have more experience, and I am sure that every team now respects Botswana."
Botswana qualified for their first finals after booking one of Group K's two qualifying slots, ahead of Tunisia, Malawi, Togo and Chad.
And his side continued its warm-up for the Nations Cup in Equatorial Guinea and Gabon when beating Swaziland 2-0 in an international friendly in South Africa on Sunday.
Meanwhile, South Africa coach Pitso Mosimane backed Tshosane's words by describing Botswana, a country that has achieved little in its football history, as 'a threat'.
"It is a fair draw, but something we cannot take for granted," Mosimane said.
"Botswana is a threat and their current form in the (Nations Cup) qualifiers is proof of that.
"The Central Africa Republic is a surprise package and if they go unchecked could cause us a problem. They have also done well in their difficult (Nations Cup) group, and look almost certain to qualify.
"Ethiopia recently drew with Nigeria, so they can't be taken lightly and could be a tough customer.
"I am happy with the draw and also confident that we can do well. Make no mistake though it's not going to be easy because the level is higher here, so we have to double our efforts to make it to Brazil."
The second round of Africa's 2014 World Cup qualifying gets underway next year, with Somalia taking on Ethiopia this November to decide which team will make up Group A.