Rochdale top League One cost list
Last updated on .From the section Football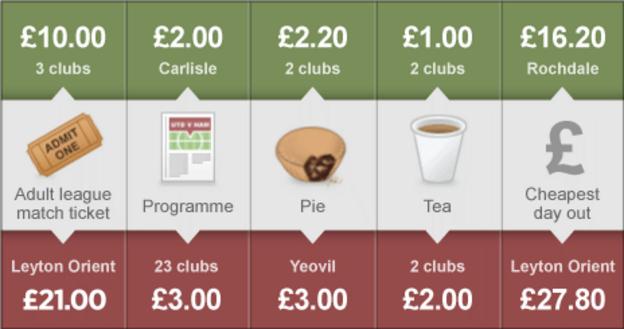 Rochdale provide the cheapest matchday experience in the Football League according to BBC Sport's Price of Football survey.
A total of £16.20 can buy a ticket to watch the League One side, a programme, a pie and a cup of tea.
That is 10p cheaper than the equivalent at League Two Rotherham - the next cheapest amongst the 91 other clubs in England's top four divisions.
"I'm shocked, that's great news," said Rochdale spokesperson Pete Woodhouse.
Fans can buy entrance to Spotland for £10, and the club's pie and cup of team are the cheapest or joint-cheapest in League One at £2.20 and £1 respectively.
Loyal fans can take advantage of special offers at the club to make their match day experience even cheaper.
"Even though we are the cheapest, we still do promotions," added Woodhouse.
"Last season we had one where you bought tickets for three games you got one for a fourth free."
Rochdale have plenty of competition in the north-west of England, with a host of Premier League sides as well as other Championship and League One sides in the local area.
"We are close to the two Manchester clubs, Liverpool and Everton aren't far away and then you have Burnley, Leeds, Oldham, Bury and Stockport all nearby and we are right in the middle of it all," said Woodhouse.
"If you are a club like Hull and on your own then it is a little easier. But kids growing see Manchester United and Manchester City on television and that is what we are fighting against."
Preston North End, the second cheapest in League One, are about 30 miles away from Rochdale and admit that they have to consider other attractions available to fans.
"Our location puts us into close competition with a whole host of Premier League clubs who offer cheap deals to try and entice new supporters in a very crowded marketplace," said marketing manager Adrian Ward.
"We have to be creative to ensure that all of our supporters feel they're receiving a fair deal."
Match day at Leyton Orient in east London will hit League One fans' pockets hardest with the cheapest package coming in at £27.80.