Sven-Goran Eriksson aiming high at Leicester City
By Leon Mann
BBC Sports News
Last updated on .From the section Football
Leicester City may be many people's tips for promotion to the Premier League this season but manager Sven-Goran Eriksson insists that is just the start of the club's ambitions.
City's Thai owners have invested heavily in the side since taking over a year ago as they look to secure top-flight football as soon as possible.
And Eriksson believes they have a long-term plan to fund a push for European football at the King Power Stadium.
"I'm quite sure about that," he told BBC Sport during a visit to Thailand with vice-chairman Aiyawatt Raksriaksorn.
"They are ambitious and very good businessmen. They have excellent results in business and that's what they want in football as well.
"I know the target is not only to reach the Premier League but to stay there.
"And sooner or later they want to reach Europe as well."
If a first taste of European competition since 2001 seems a remote possibility for now, Leicester have certainly signalled their domestic intentions this summer. Eriksson has added eight players to his squad, making the Foxes one of the busiest clubs in the Championship transfer market.
Arrivals include £5m signing Matt Mills, striker David Nugent, defender Neil Danns, Manchester City loanee Michael Johnson and goalkeeper Kasper Schmeichel.
It has made Leicester a short-odds bet for promotion and many bookmakers' favourites to win the Championship but it is a pressure former England manager Eriksson is happy to live with going into Saturday's season opener against Coventry City.
"We didn't [go up] last season - so I guess it's almost a must," said the former England coach, who joined the club in October 2010.
"[The owners] haven't said promotion is a must. But that's the feeling among all of us. We have to do better than we did last season. We can't win two games and then lose two games."
On the trip to Thailand, it is all smiles and handshakes between Eriksson and his 25-year-old boss Raksriaksorn, nicknamed 'Top'. There is an obvious rapport between the pair.
Eriksson continued: "Top knows football. I know he's very popular among the players. He plays some football himself - he's a striker.
"The staff at the training ground played the staff at the stadium and he scored three goals. He's not bad."
("I think they let me score," notes Raksriaksorn modestly.)
It is Raksriaksorn's father, Vichai, who is the real financial clout behind the consortium. Worth an estimated £110m, he made his money through the Thai travel retail giant King Power and holds the title of chairman. But it is 'Top' who is the day-to-day boss at the club.
"On the first day I came in I saw many, many things we could improve - and I've tried to improve since that day," said the younger Raksriaksorn.
"This season we are planning to bring the team back to the Premier League so we have to spend some money. But not crazy money."
As well as he gets on with his manager, it is clearly also important to Raksriaksorn that he has the respect of the playing staff. Just weeks after last year's takeover, the Leicester team and management travelled to Thailand.
"Since I brought them to Thailand, they know what I have done in business and also that they can talk to me. I think they look at me like a friend but they also know the limit," he added.
"I'm not sure if other owners are like me or not but I try to be around so people can talk to me. I do this because it's the culture in Thailand. I think it's good for the players."
The BBC's interview with Eriksson and Raksriaksorn took place at Buriram FC - a Thai football club owned by Newin Chidchob, a close friend of Raksriaksorn senior, and another wealthy businessman.
A state-of-the-art stadium was built for the club in just 251 days after the owner decided he wanted to express his love for the game to his local community. It set him back £20m.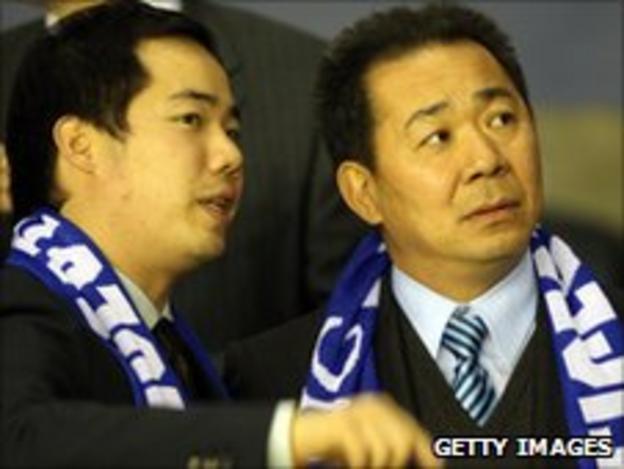 If the stadium is an expression of love, it also tellingly illustrates the financial muscle there is in the country.
'Top' Raksriaksorn's mission is very simple - and he is adamant his family do not do failure.
He said: "Our ambition since I came in was always to take Leicester back to the Premier League. They deserve to be there.
"If we don't get there we'll be disappointed and also the fans will be. I have to do it."