Watford 'cheapest' in second tier
Last updated on .From the section Football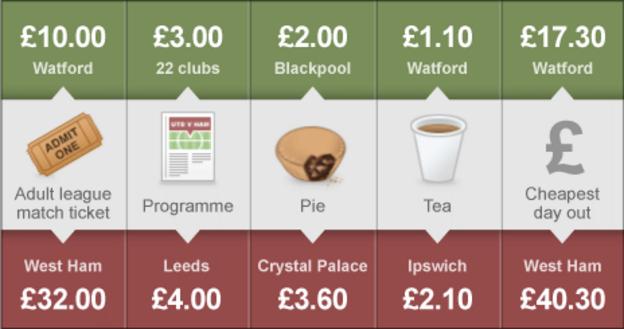 Watford is the cheapest place to watch Championship football according to BBC Sport's Price of Football survey.
The cheapest adult ticket is £10 with the cost of a programme, cup of tea and pie adding another £7.30 to a visit to Vicarage Road.
Only four clubs in the top four divisions of English football - Rochdale, Preston, Rotherham and Torquay - offer cheaper days out.
Premier League Liverpool charged the most at £46.95 for the same package.
Watford insist their approach benefits both Hornets fans and the club itself.
"The reality of going to a game is that it can cost more than just the price of a ticket, when you take into account food and drink," said Michael Jones, the club's Head of Business Operations.
"From our point of view it is important we have a receptive audience rather than a crowd who turn up just before kick-off and spend their money elsewhere.
"It is within our interests to make these things affordable inside the stadium."
Doncaster were the second cheapest in the Championship with fans able to buy a ticket, cup of tea, programme and pie for a total of £22.90.
They have a Category C ticket at £15 that they can use on a discretionary basis, not a flat-rate of £27 as initially released by the club, and published earlier.
Ipswich were the third cheapest in the second tier, at a total cost of £23.
Alongside that value option, the club also sells the most expensive ticket in the division with supporters having to part with £59 to gain access to Block D of Portman Road.
"Block D in the Cobbold Stand is an area directly opposite the director's box, with a similar view from the other stand," explained communications manager Camilla Haycock.
"People in there get a free programme, more legroom, padded seats, and a reserved area where they can go and get their drinks at half-time.
"99% of the people in there are corporate customers to be honest, but when they haven't filled those seats, we put them on general sale."
At £20, Leeds United's cheapest ticket is unexceptional for the Championship, but their £4 programme is the most expensive in the whole country.
The increased price for the programme this season is matched with an increase in size - with an expansion from 76 to 100 pages.
"The decision was taken to end the club's long-standing magazine and increase the content in the programme," said a spokesperson.
"It's a production we are very proud of, and bearing in mind this is the first price increase in 10 years, we like to think it is a good read and offers good value."
John Nagle, the Football League's Head of Communication, believes such moves show clubs are becoming more responsive to the needs of football fans.
"Football League clubs are working extremely hard to attract the next generation of fans through a variety of innovative marketing initiatives," he said.
"Much of the focus is on improving the matchday experience for supporters, particularly families.
"This has seen the League introduce a programme of 'mystery shopper' visits to matches in order to assess the experience."