Premier League clubs reveal cost of a day at the game
Last updated on .From the section Football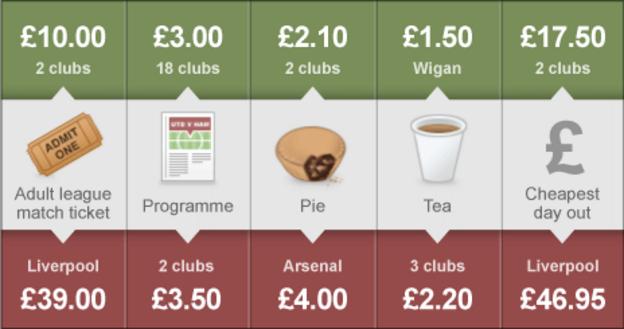 Blackburn Rovers marketing manager Simon Williams believes the club's commitment to making football affordable has helped them produce the best value matchday offer in the Premier League.
A survey by BBC Sport showed Rovers offer better value deals for adults without season tickets, than the rest of the top flight.
Rovers offer £10 adult tickets for several games a season - meaning fans can enjoy the match, a pie, a programme and a cup of tea for just £17.50. That's in comparison to Liverpool, where the cheapest day out available is £46.95.
"We made a conscious business decision four years ago to put bums on seats at Ewood Park through cheap season tickets and £10 tickets for certain category games," said Williams.
"And this has been a great success with the fans, pushing our average home attendance up by several thousand to 25,000. That's fantastic considering the town has a population of 130,000.
"The players have gone on record to say how much the atmosphere in the stadium has improved and how it drives them on. So it does make a difference."
Unsurprisingly, clubs in London are generally more expensive, with Arsenal (£100), Chelsea (£87) and Tottenham (£80) having the highest cost of matchday tickets in the country. However, Chelsea's cheapest ticket is £23.50. Champions Manchester United and cross-city rivals City compare relatively well - United's cheapest day out is £35.60 while City's cheapest ticket is £25.
Newcastle United were the only club of the 104 surveyed in England, Wales and Scotland not to disclose their matchday prices.
In a statement, the Premier League said it did not interfere with prices, but made clear that games were expected across the division to be 92 per cent full this season.
The statement said: "Individual Premier League clubs decide at what level to price their match tickets. What is clear is that they all work extremely hard to fill their grounds with varied pricing pitched at fans with different budgets and needs."