Joey Barton 'fined two weeks' wages' by Newcastle
Last updated on .From the section Football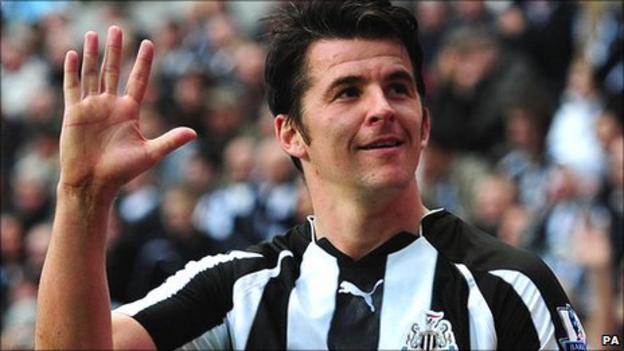 Newcastle United midfielder Joey Barton says he has been fined two weeks' wages a day after the club made him available on a free transfer.
Earlier on Tuesday, Barton had revealed he was being made to train alone.
The 28-year-old's agent, Willie McKay, has said he has been "inundated" with interest from Premier League and top European clubs keen to sign Barton.
Barton has not said what the fine relates to, and the club has yet to issue a statement or confirm that the player has been fined.
Despite having one year left on his contract, Barton has been told he can leave St James' Park for free.
"We have been inundated with interest," McKay told BBC Radio 5 live.
Relations between Barton and the club have been strained after contract negotiations broke down in the summer but McKay, who received a call from Newcastle managing director Derek Llambias on Sunday night saying Barton could leave the club, said he was still surprised by the decision.
The agent said: "I've got nothing against [Newcastle owner] Mike Ashley and Derek Llambias and the guys that run the club. They can do what they want but I think it's suicide what they've done.
"I've probably got the easiest job of any agent in the transfer window."
Despite Arsenal and Tottenham emerging as the early front-runners to sign Barton, McKay revealed that his player was disappointed when talks to remain at St James' Park broke down.
"Joey was disappointed. There was no way we were going to take a cut in his wages. He wanted four years, they wanted three," added McKay.
"He wanted to stay as he loves it up there and he's settled. He was playing great football.
"I think he's a very strong player for the team as there are not many players like Joey about.
"If he was playing for Arsenal last season, they'd probably have won the title."
McKay also praised Newcastle for sticking by Barton when he served a 77-day prison sentence for assault, and said he would be happy to discuss ways of Barton staying at the club should they have a change of heart about letting him go.
"To be fair to Derek Llambias, he and the club did stick by Joey after his troubles but I thought he paid them back by playing well the year before and last season," said McKay.
"If Newcastle change their mind, I'm happy to meet Mike and Derek with Joey because Joey loves it up there."