Brazil hope England friendly will open World Cup venue
Last updated on .From the section Football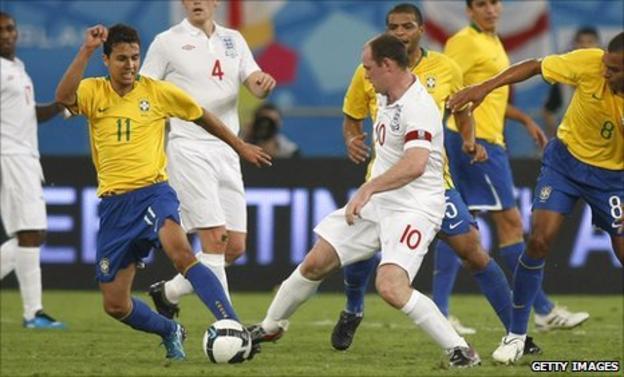 England could face Brazil in a friendly designed to mark the re-opening of one of the 2014 World Cup's stadiums.
An upgrading of the Mineirao stadium in Belo Horizonte will be finished by 2013 and the region's state secretary thinks England would be ideal first opponents.
Sergio Barroso said: "We want England to play Brazil in a friendly in the opening match of the new stadium."
England's last match in Belo Horizonte was their infamous 1-0 defeat to the United States at the 1950 World Cup.
The stadium is undergoing reconstruction work to transform it into a state-of-the-art 65,000 capacity venue capable of staging the opening match of the 2014 World Cup.
But there are concerns that Brazilian FA President Ricardo Teixeira may not allow such a warm-up friendly to take place, given his recent comments about England and its media.
Teixeira, who also sits on Fifa's executive committee, said the English "were pirates who could go to hell".
The English FA's general secretary, Alex Horne, flew to Rio de Janeiro last week to improve England's relations with both Brazil and Fifa, following the fall-out from England's unsuccessful bid for the 2018 World Cup.
"We know what Ricardo Teixeira has said about the English, but the opening of the new stadium is more than just what he has said and his view of England," Barroso said.
"I am speaking to him and I am going to ask him to invite England to play here. Fifa says it is all about fair play and the good of the game so let's see what Mr Teixeira will do about it."
"England was the birthplace of football and Brazil developed the game and there are very strong links between our two footballing countries," he added.