Simon Clegg cites Ipswich Town owner warning
Last updated on .From the section Football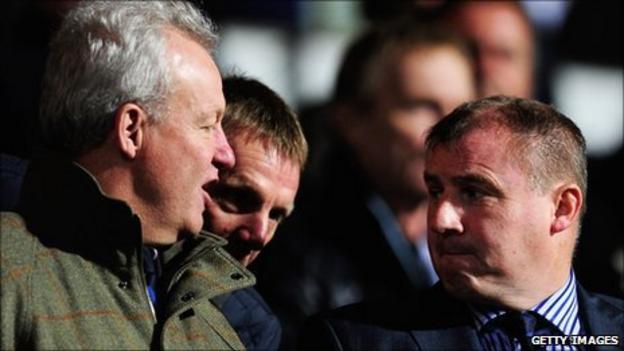 Ipswich chief executive Simon Clegg has warned that owner Marcus Evans would be "tested" by continued under-achieving, but has reiterated Evans' commitment.
Clegg told BBC Radio Suffolk persistent mid-table Championship finishes would be "challenging" for Ipswich.
Town have not come higher than eighth since Evans bought the club in 2007.
"We only survive because Marcus Evans can afford to put in £4m or £5m of his own money every year to keep the club afloat," he said.
"That is testing on anyone's pockets, however deep they are.
"But Marcus is hugely committed to the club, continues to be very enthusiastic and is prepared to continue to support the manager."
Businessman Evans took on £32m of the Suffolk club's debt when he bought an 87.5% stake over three years ago, and has continued to inject funds into the transfer budget.
Clegg has continuously stated that the aim is to win promotion to the Premier League "at the earliest opportunity", but has conceded that is becoming a tougher target to achieve every season.
"The longer it takes us to get into the Premiership the harder it will become, particularly with the increase of parachute payments going from two years to four years," he said.
In his first summer as Town boss Paul Jewell has received financial backing from the owner, with Nathan Ellington, Jay Emmanuel-Thomas, , Lee Bowyer, Ivar Ingimarsson, Michael Chopra and David Stockdale all being brought to Portman Road.
And there could be more arrivals before Saturday's season opener at Bristol City.
"We've got a couple of targets in mind," explained Clegg.
"I don't want to box myself into a corner, but the season starts on Saturday so we're focused on trying to ensure any deals that are to be done are done before the start of the season."