Africa's 2014 World Cup system troubles Sunday Oliseh
Last updated on .From the section Football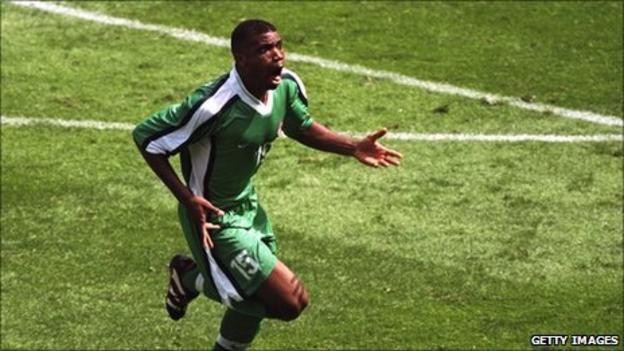 Former Nigeria captain Sunday Oliseh has criticised Africa's qualifying system for the 2014 World Cup.
For the first time since the 1990 finals, a series of play-off games will decide the continent's five qualifiers.
"I think Africa is in trouble as I was very disappointed when I saw the format they made up," Oliseh told BBC Sport.
"Let's not forget what happened when Algeria played Egypt in (2010) qualifying, when there was fighting, yet now we will have five play-offs."
"Let's hope that we don't have five incidents like this."
Security at high-profile African football matches has long been the subject of some concern.
In November 2009, bitter North African rivals Algeria and Egypt were forced to meet in a one-legged play-off after both ended their World Cup qualifying group with identical records.
Such was the intensity of the match in neutral Sudan that diplomatic relations between the two countries were affected as violence broke out between rival fans in four different countries.
"This is what scares me (about the new format)," Oliseh told the BBC's flagship African sports programme Fast Track.
Africa's qualifying format for all World Cups from 1994 onwards was changed after post-match violence broke out during play-offs used to determine the 1990 finalists.
Once again, Egypt and Algeria were involved - with the Egyptian team doctor blinded with a bottle in a post-match fracas following the Pharaohs' tense victory in November 1989.
Since the 1994 finals, Africa's World Cup qualifiers have been decided by the teams who emerged top from selective qualifying groups.
Yet for the 2014 finals, five different play-offs will take place to determine who reaches Brazil from the second round of qualifying.
The teams who top ten different qualifying groups in the second round will reach the third and final round.
The draw for Africa's 2014 World Cup qualifying campaign was made on Saturday in Rio de Janeiro.