Cameroon's Webo bids farewell to Mallorca for Turkey
Last updated on .From the section Football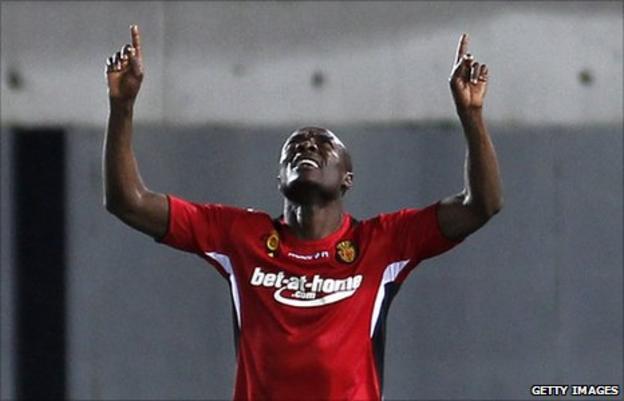 Cameroon's Pierre Achille Webo says that he left Spanish club Mallorca for family reasons as he joins Turkish club Eskisehirspor.
Webo, 29, courted controversy recently when he did not play in a pre-season friendly in Sweden.
He appeared at a press conference alongside Mallorca's CEO Pedro Terrasa to bid farewell to the club and explain that the problem has been resolved.
"I didn't want to play as I wasn't mentally right," Webo said.
Terrasa confirmed that the issue had been addressed amicably.
"It has been resolved by all parties and it was important for the club because of what it means to the fans," he said.
"I want to thank you for your commitment and dedication over the last four seasons," he told Webo.
Webo, who scored 11 goals in 35 appearances last season, went on to further explain why he was leaving Mallorca.
"There are non-sporting reasons that can help you make decisions (and) in my case, this is about my family."
"When I finish my career, I will come back here - I'm not moving out, only taking my clothes."
The forward also thanked the Mallorca fans.
"There have been some good moments - I must thank the fans and apologise if I did anything to upset you," he added.