Off The Bawl 31 July 2011
Last updated on .From the section Football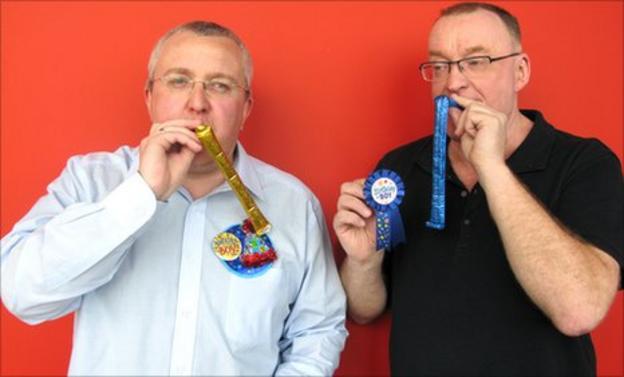 Greeeeeetings!
He arrived at Fir Park from Ibrox in the summer of 1989 for a paltry £50,000 and immediately inspired players like Tommy Boyd, Dougie Arnott and Phil O'Donnell before guiding Motherwell to Scottish Cup glory in 1991.
So was the late great Davie Cooper - snapped up by Saturday's star guest Tommy McLean - the greatest bargain in history?
Tam knows a thing or two about a bargain - his mother once went out with a Jewish gigolo as she couldn't resist anything with 10% off - and Coop is definitely No.1 on his list.
(Tam also once bought a TV that cost just £1 because the faulty volume control was stuck on full. Tam says he couldn't turn it down.)
In the company of our other guest - former top ref Stuart Dougal - we also began the search for Scotland's best football boozer as a wee tribute to the match-day pub at Stirling Albion that's helping Jocky Scott to buy players with the profits.
(Tommy McLean once ran his own pub, but it failed to make any decent money as he couldn't reach the optics.)
We also introduced a cracking Team of the Week - The Weapons XI - and, as usual, the Off The Ball Sunday Supplement sparked its customary compendium of crazy correspondence. (That's enough c-words - Ed)
Here's a selection of the most petty and ill-informed emails and texts on radio...
BEST BARGAINS
Big G in Glasgow said: "Pound for pound, the best bargain in the history of modern football must surely be Henrik Larsson. For the success he delivered and the money Celtic paid (£650,000), he provided unbelievable value for money. You can only dream of that sort of signing now."
Jeff the Arab in Crieff said: "Billy Dodds was surely the ultimate bargain buy for Dundee Utd. We got him from Aberdeen for free in the Robbie Winters deal. We sold him for over a million quid to Rangers. And then we got him back for free as part of the Steven Thompson deal. And he scored goals every single time."
David in Maryhill said: "My best-ever bargain cost almost what Motherwell paid for Davie Cooper - £41,000. It was a divorce settlement. Trust me, 41 grand to get rid of my missus was the bargain of a lifetime!"
Kris in Ayr said: "Best bargain ever? It must be football legend Gordon Ramsay. Despite a "glittering" Rangers career, he never once appeared on the Ibrox payroll."
BEST FOOTBALL BOOZER
William in Dundee said: "The best fitba' boozer was Behind The Wall in Falkirk - during the Brockville days at least. In Dundee, The Centenary is class for a flat lager before the game." (Why complain to a barmaid, William, when you can broadcast your gripe on national radio? Well done that man!)
Fergie in Aberdeen said: "If you're ever in Aberdeen, don't miss The Criterion Pub in Guild Street. It's owned by the legend that is Frank McDougall."
Jim in sunny Whitehalls said: "What about The Paramount in Bon Accord Street in Aberdeen? That's where the urinals famously - and controversially - had built-in videos of several Rangers players."
Ian in Edinburgh said: "The greatest ever football boozer? Surely it must be George Best?"
TEAM OF THE WEEK
THE WEAPONS XI
(aka Accrington Stanley Knife)
Manager: Walter Smith & Wesson
Assistant: Gardiner Spears
1/ Peter Bayonetti
2/ Blunderbuss McPherson
3/ John "Bomber" Brown
4/ Tommy Gun Ring (c)
5/ Neil "Razor" Ruddock
6/ Kevin Musket
7/ Eammon Baton
8/ Chib Charnley
9/ Nigel Pepper Spray
10/ Shooter Arveladze
11/ Ruud Van Pistolroy
Subs: Cosh McKinlay, Grenade-n McGeady, George Chiselling, Jered Rifle, Jorge Machette, Ronald & Frank de Twelve Bore.
AND FINALLY...
Following reports that Stephen Fry is the person most blokes would like to join for a pint, we asked the Sunday Supplement listeners if they'd ever shared a drink with someone famous.
Robert in Dundee said: "I once had a drink with Brian Blessed in a pub called The Old Thatch Tavern in Stratford-Uopn-Avon. He was a very, very nice bloke - but my tinitus still gives me problems."
Burnsy in Coalburn said: "I bought a pint for Don Goodman in The Savoy nightclub in Glasgow. When I got home and told the wife, she gave me a kicking for buying a drink for someone on five grand a week."
PS The song that played us out? Well, on the back of Dutchman Jereon Tesselaar saying he joined St Mirren because they play total football (seriously!), we finished with Napoleon XIV's one-hit wonder They're Coming To Take Me Away, Ha-Haa...
To join in the fun on this Saturday's show, call 0500 929500, text 80295 or email offtheball@bbc.co.uk